Row over Marine Le Pen comments on Niger hostages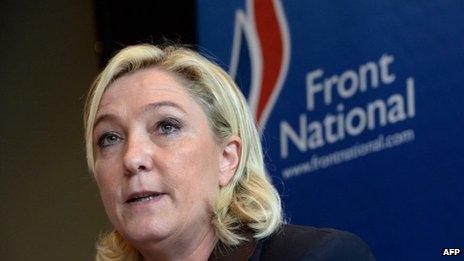 French National Front leader Marine Le Pen has sparked criticism with comments on the appearance of four French hostages freed in Niger.
Mrs Le Pen said she had felt "uneasy" on seeing footage of the return, calling their behaviour and clothing - including their beards - "surprising".
A government minister called her comments an "unbelievable indecency".
The four arrived in Paris on Wednesday. They had been seized by al-Qaeda-linked gunmen in northern Niger in 2010.
They had been kidnapped in raids targeting French firms operating a uranium mine in September 2010 and held in the northern desert of neighbouring Mali.
Mrs Le Pen said the images of the hostages' return to Paris had left her "sceptical".
"I found their extreme reserve surprising, I found their dress surprising. I don't think I was the only one," Mrs Le Pen told the Europe 1 radio station.
"Two of them had beards cut in a surprising way... I think perhaps they need to explain all of that, it gives an odd impression to French people," she continued.
She also alluded to images in which one of the hostages had worn a scarf covering his face. During the scenes broadcast on TV of the men's emotional re-union with their families, all their faces were visible.
Asked whether she thought the men had converted to Islam during their captivity, she replied: "No, listen, I'm not a psychiatrist, I'm not hinting at anything. I wouldn't go so far as to put forward theories, that's not my role."
The comments provoked a torrent of criticism from other politicians.
Harlem Desir, the first secretary of President Francois Hollande's Socialist Party, called Mrs Le Pen's comments "shameful and unpatriotic" and called on her to apologise to the hostages and their families.
Socialist Party spokesman and MP Eduardo Rihan Cypel, tweeted: "Le Pen is so blinded by her 'hatred of others' that she's unable to share the joy of the nation after the freeing of our hostages".
Roger Karoutchi, senator from the centre-right UMP party, said: "Thirty-seven months held in the desert and Marine Le Pen says the hostages should have come back clean-shaven and in three-piece suits. What to say?"
Asked about the row, the mother of one of the ex-hostages, Pierre Legrand, told the French I-tele TV station that their clothing had been a gesture of solidarity with other hostages who had not yet been freed.
Mrs Le Pen later said she had been "clumsy" in her choice of words.
"I never meant to criticise the hostages in any way, and obviously I'm overjoyed that they've been freed," she told reporters.
However, she did not apologise for her earlier comments, and repeated her unease at seeing the hostages in clothing that was "a symbol of their detention".