Gunman on north Belfast banner condemned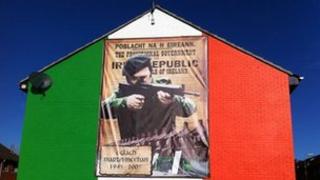 The Alliance Party has condemned the inclusion of a paramilitary gunman on a banner to commemorate a leading republican in north Belfast.
The image, showing former Sinn Fein councillor Martin Meehan aiming a rifle, was unveiled on Ardoyne Avenue.
Alliance councillor John Blair said the move was not representative of the local community and said people did not want to see "such images displayed on their doorsteps".
He called for it to be removed.
"Alliance is against any murals or banners that demarcate territory and glorify violence of any kind. They have no place in a safe and shared community," he said.
"We must find ways to separate the negative aspects of the past from respectful commemoration.
"It is difficult to see how the depiction of gunmen can inspire people to play a constructive role in the community and it memorialises the darkest parts of our past rather than the change people have made or the more positive aspects of our heritage.
"I would urge those behind this banner to remove it immediately."
'Iconic image'
Mr Meehan, who at one time was a major figure in the IRA in the Ardoyne area, died in November 2007, aged 62.
His son, Martin Og Meehan, said the banner had been picked and paid for by the family. He said the image of his father aiming a gun had been in the public domain since 1972.
He said it illustrated how his father was viewed as "a defender against oppression and a unionist pogrom against the Ardoyne community".
"I'm proud of what my father achieved and what he was responsible for. There would not be an Ardoyne today if not for Martin Meehan," Mr Meehan said.
"It shows an historical image - the image is iconic.
"This is a family issue, it's a community issue. It's not about demarcating territory or anything like that."
'Intimidate'
DUP MP for North Belfast, Nigel Dodds, said: "Martin Meehan's role in the IRA's sectarian terrorist campaign in north Belfast was well known and this image should be removed immediately given how raw the wounds still are for many victims.
"It serves no purpose other than to celebrate violence and to intimidate the wider community."
The DUP MP claimed the banner was also "another example of the struggle between dissident republicans and Sinn Féin to position themselves as the voice of the area".
He added: "Sinn Féin regularly refer to dissidents as 'micro-groups' yet they constantly appear to be looking over their shoulder in a competition to celebrate the terrorism which blighted our community for so long."