Austria court jails seven members of neo-Nazi group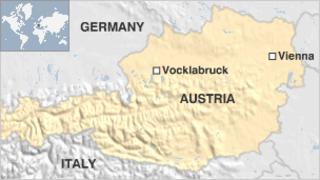 A court in Austria has found seven men guilty of neo-Nazi activities and jailed them for to up to six years.
The members of the so-called Objekt 21 group were convicted of "re-engagement with National Socialism" - a crime in Austria since 1947.
Witnesses said the men made statements like "the Fuehrer is always right" at meetings near the town of Vocklabruck.
Austria was annexed to Nazi Germany in 1938 and was deeply involved in the crimes of the Third Reich.
It is now illegal to make statements which glorify the Nazi regime or to display Nazi propaganda or symbols.
Reign of terror
A video shown during the trial showed some of the defendants shouting "Heil Hitler", according to reports.
Meanwhile their clubhouse near Vocklabruck, about 200km (124 miles) west of Vienna, was known as "the armoury" and decorated with Nazi logos and flags.
The two main perpetrators were sentenced to four and six years in jail, and said they would appeal, according to local media.
The others were given sentences of between 18 months and two-and-a-half years, Austria Presse Agentur reported.
All seven men, who are aged between 23 and 33, had pleaded not guilty. They have not been named.
Police said Objekt 21 had maintained a reign of terror in the region of Upper Austria for years with arson attacks, weapons and drugs dealing and illegal prostitution among other crimes, and had been under surveillance since 2009.
Austria passed its anti-Nazi Prohibition Act in 1947.
It was broadened in 1992 to include Holocaust denial and the belittlement of any Nazi atrocities.