Spain releases eight of nine Eta militants after court move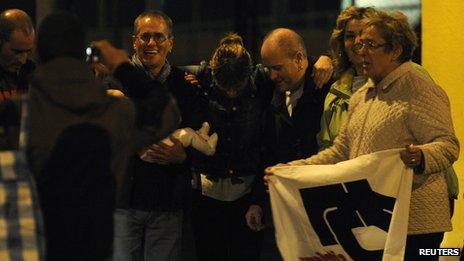 Eight - out of nine- jailed militants from the Eta Basque separatist group have been released by Spain's top criminal court.
The Audiencia Nacional's decision on Friday follows a European court ruling which overturned Spain's extension of Eta prisoners' sentences.
Only one remained in jail on Friday night, Spanish media reported.
A violent 40-year campaign by Eta killed more than 800 people. The group declared a ceasefire in 2011.
Spain and some of its Western allies, including France and the UK, consider Eta a "terrorist" organisation.
Last month there was bitterness among relatives of Eta victims when Eta member Ines del Rio was released.
On 21 October the European Court of Human Rights upheld its 2012 ruling against Spain which opposed a legal practice known as the "Parot doctrine" - which allowed prison terms to be extended for people convicted of terrorist offences.
The next day Spain released Ines del Rio, who was serving a 30-year prison sentence for her role in bomb attacks in the 1980s.
Friday's court decision related to the cases of 11 prisoners. The judges ruled narrowly in favour of releasing nine of the prisoners.
Nine judges supported their release, and eight were against.
One of the first to be freed was Domingo Troitino, jailed for a 1987 attack on a supermarket in Barcelona which killed 21 people.
He is the brother of Antonio Troitino, who was released from custody in London last month in line with the European court ruling.
The other eight are: Jokin Mirena Sancho, Isidro Maria Garalde, Jose Ignacio Urdiain, Jon Koldo Aginagalde, Joseba Koldobika, Elias Fernandez Castanares, Juan Francisco Gomez Lopez and Luis Maria Azkargorta.
A Spanish ruling in March 2006 meant that the most serious criminals in Spain could not qualify for early release.
But the European Court in Strasbourg said the ruling must not apply retroactively and so, it argued, dozens of Eta prisoners and other criminals convicted before that date should be released.
Spain's courts are expected to free a further 43 Eta prisoners, most of whom were convicted of multiple murders, the BBC's Tom Burridge reports from Madrid.
The Strasbourg ruling has been condemned by organisations in Spain representing the victims of Eta bombings and murders.