Anger in Albania over Syria chemical weapons plan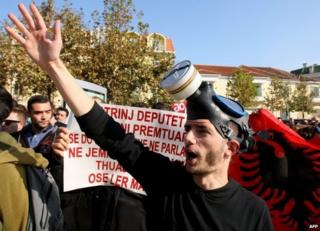 Unconfirmed reports that Albania may take in Syrian chemical weapons for disposal have provoked angry protests in the capital Tirana.
Demonstrators rallied for a second day in Tirana and other cities, including Durres, for fear its port would be used to bring in the weapons.
Prime Minister Edi Rama is due to make a statement shortly.
France has been named as a possible alternative site for destroying Syria's 1,000 or so tonnes of chemical arms.
These are believed to include the nerve gas sarin, the blister agent sulphur mustard and other banned chemicals. They were put under seal when production sites in Syria were destroyed.
The US threatened military action against Syria after a chemical weapons attack in the Damascus area on 21 August left hundreds of people dead.
Under a subsequent deal brokered by Russia to remove Syria's arsenal, it was agreed that chemical agents and precursor chemicals should be destroyed outside Syria if possible.
Discussions have been under way for weeks at the Organization for the Prohibition of Chemical Weapons (OPCW) in The Hague about how to destroy the stockpile.
It is meeting on Friday to agree "destruction milestones" for the process.
Norwegian ships
Albania, a member of Nato, is seen as a possible destination as it recently destroyed its own poison gas arsenal.
Demonstrators reportedly fear the proposal's safety implications and possible impact on the tourism industry.
On Friday protesters turned out on the main boulevard in Tirana, as well as in the cities of Korce, Elbasan, Shkoder, Lezhe and Gjirokaster. In Durres, they managed to block the main entrance to the country's main harbour.
"We don't have the infrastructure here to deal with the chemical weapons," 19-year-old architecture student Maria Pesha was quoted as saying by the Associated Press news agency.
"We can't deal with our own stuff, let alone Syrian weapons. We have no duty to obey anyone on this, Nato or the US."
The previous day, protesters in Tirana waved placards that read "No to sarin, Yes to oxygen, let us breathe" and "No to chemical weapons in Albania".
Former Prime Minister Sali Berisha joined them along with deputies from his party. "We are not going to accept any chemical weapons in Albania, the prime minister has humiliated the Albanians," he said.
Mr Rama himself indicated earlier that he was in favour of the proposal.
"Our 'Yes' would be linked only to a plan and agreement that will make it clear to everyone that Albania will come out of this with its head held high, the richer for it and cleaner than it is today," he said on Wednesday.
A source briefed on the discussions told Reuters news agency that talks with Albania had reached a "technical level".
Norway has pledged to send a civilian cargo ship and a navy frigate to Syrian ports to pick up the weapons and carry them elsewhere for destruction.
The country said earlier that it could not destroy the weapons on its own soil because it lacked the expertise.