Russia plane crash: Pilot error suspected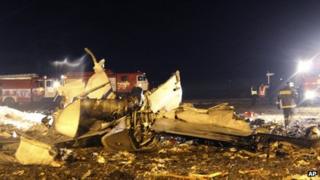 Russian aviation experts say the pilots of a Boeing 737 jet that crashed in Kazan on Sunday carried out a manoeuvre that put the plane into a dive.
During a second attempt to land, the pilots switched to manual control and made a correction when the plane lost speed, the investigators said.
But the jet then nose-dived and crashed on to the tarmac, killing all 50 people on board.
According to the initial findings, the jet did not have any technical faults.
On-board recorder
The Interstate Aviation Committee (IAC), a body authorised to investigate civil air incidents in the Commonwealth of Independent States (CIS) comprising former Soviet countries, said that its preliminarily findings were that the crash was caused by pilot error.
It said the two pilots failed to make a proper landing approach on the first attempt and then began a second run.
"Finding out that their attitude was not appropriate for landing, the crew started a go-around manoeuvre," the IAC said.
The report said the plane had lost speed in a steep climb then over-compensated, which sent it into a near-vertical dive.
The report drew its conclusions from data retrieved from one of the plane's on-board recorders, correspondents say, and the climb and subsequent plunge lasted only about one minute.
Such "loss of control" accidents are responsible for more deaths than any other type of plane crash because they are rarely survivable, the US-based Flight Safety Foundation was quoted by the AP news agency as saying.
BBC regional analyst Pavel Fedenko says that in recent years the IAC's conclusions following major accidents have almost invariably blamed the pilots.
Critics have questioned its analyses pointing to inconsistencies, our correspondent adds .
The Boeing 737 was arriving from Moscow and crashed at about 19:20 local time (15:20 GMT) on Sunday.
It was raining at the time but the weather conditions were favourable for landing, officials say.
The fuel tanks exploded on impact and it took hours to extinguish the blazing wreckage.
Tatarstan Airlines said that both pilots were very experienced and no technical problems had been reported with the plane before the flight.
Airline head Taksan Giniyatullin told a news conference on Tuesday in Kazan that the flying experience of the two pilots ranged from 1,900 to 2,500 hours - and that they had undergone "all the necessary instruction".
But he said that the crew apparently had no experience with attempting a second landing.
Reports said the pilot, 47-year-old Rustem Salikhov, had already tried to land several times before crashing.
The crew also said that they were not ready to land because of technical problems, Russian news agencies reported.
A journalist who said she had flown on the same aircraft from Kazan to Moscow earlier on Sunday told Russia's Channel TV that there was a strong vibration during the landing in the Russian capital.