Cyclone Cleopatra traumatises people of Sardinia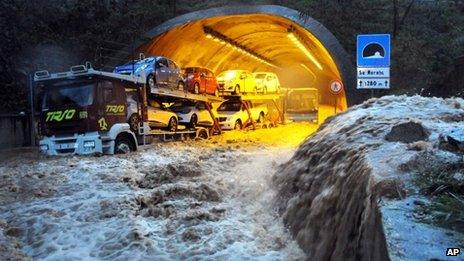 Cyclone Cleopatra changed the geography of Sardinia in a matter of hours.
Roads that existed a day ago are now impassable. On the highways "No Entry" signs and barriers force drivers to choose a different way.
The car's navigation system says "turn back", take the route suggested - only the route no longer exists.
At one such roadblock, a fireman who gave his name only as officer De Rio, explained that there was a hole in the road.
"There's a crater. We're still expecting more bad weather. The road could collapse at any time."
That crater was where one of Cyclone Cleopatra's victims died.
"There was a policeman trying to help people - his car drove into a hole in the road. Two people were injured - the policeman died," said officer De Rio, before heading off down the road to try and make it safe.
At another turn in the road, the muddy swollen river has ripped the tarmac and much of the underlying concrete from an old double-arched bridge. On top of it now lies the debris of the storm - branches from trees ripped out of the ground by a wall of water.
"It went right past and over that other bridge too, I saw it," says one man, pointing at the next bridge along the river. It is perhaps 10m (32ft) high.
The water tore rocks and vegetation, ripping up crops from some of the farmers' fields. A wide area of muddy, broken land is what is left where the waters flowed.
"It was such a little river, just a stream. You could jump from one side to the other in places," said Franco, who had come to take photos.
"But yesterday it was so big. It had taken over everything."
He pointed across the river and nudged his friend. "Remember how the olive trees were there? Now they're crushed up against the bridge."
Nearby a small team from the Sardinian Forestry Guard stands next to their vehicle.
"I've never seen something like this," says Inspector Antioco Bus.
"Even the elderly people say they can't remember something like this happening. The last time maybe was in 1951. But not like this."
Most places here were not damaged. Most roads are fine, the bridges still standing, and safe. Far far fewer people died here than in the recent cyclone in the Philippines. Far less damage was done.
Yet this was - according to the BBC weather centre - exceptional for this part of the world. This part of the Mediterranean often gets unsettled weather at this time of the year, but not normally to this extent.
In Olbia, where some of the worst damage was done, a car sits where the water left it - a tangle of branches sticking out from under the bonnet.
People have piled sodden belongings out on the pavement.
And the rain is still falling. It is not what they need.