Turkey: Suspected attacker seized outside PM's office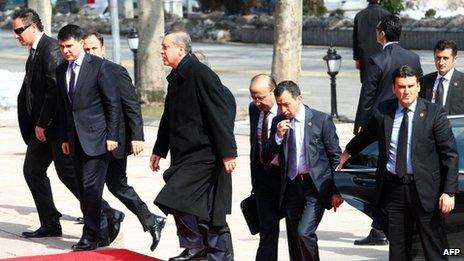 Police in Turkey have arrested a suspected attacker outside the prime minister's office, according to reports.
Security officials originally believed the man was suicide bomber and fired shots in the air.
But Turkey's interior minister said the package he was carrying only resembled a bomb, and he was "mentally unstable".
Video footage showed security restrictions being put into place around the building in Ankara.
There were conflicting reports, with state-run media earlier saying the alleged attacker had been shot by police and taken to hospital.
But an adviser to the prime minister said on Twitter that officers had fired into the air and no-one was hurt.
Turkey's state-run Anadolu news agency (also known as Anatolia) said security guards captured a 52-year-old suspect, who was thought to be wearing explosives, after he attempted to enter the prime minister's building.
They wrestled him to the ground while a bomb squad investigated.
"This individual was carrying a device resembling a bomb but in fact it was not one," Interior Minister Muammer Guler said, describing him as "mentally unstable".
The man was taken to a police station where he was being interrogated about the incident, AFP news agency reported.
Prime Minister Recep Tayyip Erdogan was not believed to have been in the building at the time.
He is due to leave later Thursday for a visit to Moscow.
NTV television reported that a man had called the police saying he was a suicide bomber and was planning to go to Mr Erdogan's office.