Latvian government falls over Riga supermarket disaster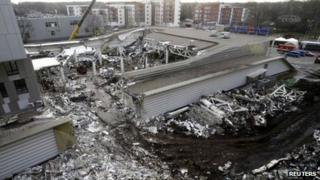 Latvia's PM Valdis Dombrovskis has announced his resignation, and thereby the fall of his government, over the deadly collapse of a Riga supermarket.
He made the announcement at a meeting with President Andris Berzins.
"Considering the tragedy and all related circumstances... a new government is needed that has the clear support of parliament," Mr Dombrovskis told reporters.
At least 54 people died when the Maxima supermarket collapsed last Thursday.
President Berzins earlier described the disaster as "murder" and called for foreign experts to investigate what had happened.
Three-time premier
Mr Dombrovskis met the president for an hour and a half on Wednesday, the Baltic news agency Delfi reports.
President Berzins was quoted by the agency as saying: "I call on all who look to the future to assess their responsibility and act accordingly."
The prime minister's spokesman told Agence France-Presse news agency that "the government takes political responsibility for the tragedy".
Mr Berzins is now considering appointing a new government. Elections are not scheduled until October next year.
The collapse was the biggest loss of life since Latvia became independent from the USSR in 1991.
Police have opened a criminal investigation into the cause of the disaster.
Structural experts have suggested that the supermarket building itself may have been badly designed and so not able to support a garden that was being built on the roof.
After analysing photos, videos and eyewitness reports, one structural engineer suggested there had been numerous design flaws in the roof's supporting beams - including not enough bolts.
Substandard construction materials and corruption are other possible lines of inquiry.
Eurozone
Taking office in 2009, Mr Dombrovskis was charged with making harsh budget cuts and tax increases as well as tough structural reforms to tackle the country's economic crisis.
He was twice reappointed, and is widely credited with preventing the small Baltic country from going bankrupt.
Latvia is due to join the eurozone on 1 January, becoming the 18th EU state to adopt the single currency.
The country of two million observed a three-minute silence on Monday, the last of three days of national mourning.
Among those killed, who included two Russian citizens, were three firefighters.
President Berzins attended the funerals of Edgars Reinfelds, Sergejs Iziks and Vilnis Steinitis on Wednesday.
Flowers and candles have been placed near the ruins of the building.