Russian TV's The Voice a beacon of 'tolerance'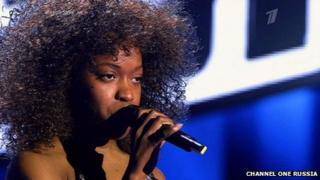 Russian TV's version of the international singing competition show The Voice has pulled in mass audiences and wowed the critics.
But it has also promoted an ethos of tolerance and diversity strikingly at odds with much of the current affairs output on state TV. One critic described it as "healing".
Golos or The Voice, currently in its second season on state-controlled TV station Channel One, has become compulsory Friday-night viewing for millions of Russians anxious to see which of the aspiring singers will make it to the next round and which are destined for an emotional exit.
Rare event
As TV critic Arina Borodina noted, Golos has been a "rare, practically unique" event in Russian TV in recent years, in that it has won a wide following not only among the regular TV audience, but also internet users, who have been eagerly discussing it on social-networking sites.
The first series was a triumph for Dina Garipova, a young singer from the Russian republic of Tatarstan, who won the final with nearly 1m audience votes. Garipova went on to represent Russia in the Eurovision Song Contest in Sweden, where she came fifth.
But for many viewers the star of season one was Sevara Nazarxon from Uzbekistan, who impressed with her rendition of the Rick Allison and Lara Fabian song Je T'Aime.
Cosmopolitan
Season two has had an even more cosmopolitan line-up.
One of the early favourites has been Nargiz Zakirova, a shaven-headed, liberally tattooed diva, also from Uzbekistan, who has spent much of her adult life in the USA, where she competed in The X-Factor.
Zakirova's performance of German rock bank Scorpions' Still Loving You on Golos has been viewed on YouTube nearly 4m times.
Another contestant tipped to go far is Gela Guralia, a 33-year-old male singer from Georgia, who has gone down a storm with female Twitter users.
The multicultural spirit of season two was exemplified by one of the sing-offs on 15 November. First up was Sharip Umkhanov from Chechnya singing a Russian love song.
Next came Ukrainian-born Yana Rabinovich from Siberia who treated viewers to the Yiddish classic My Yiddishe Momme.
The trio was completed by Karmen Moxie, a young black woman from the USA currently living in Moscow, who belted out the 1960s hit Stay With Me Baby.
"It is great that here on this stage and before such a wide audience we can show different cultures," enthused singer Pelageya Khanova, one of the four resident coach-judges.
Moxie was the one to lose out in the sing-off. But she made a memorable and emotional exit, saying in English that it had been an "amazing" experience to be on Russian TV and thanking everyone for "allowing me to enjoy your country".
Feeling of tolerance
Not everyone has relished the international flavour of Golos. Many viewers have been particularly unhappy at the small number of Russian songs being showcased. "Next they will be singing the American national anthem. And why not? All singers spend most of their time in America, and the contestants sing in English," wrote one disgruntled user on Channel One's Golos forum.
Irina Petrovskaya, TV critic for opposition newspaper Novaya Gazeta, said that, according to her sources, there had even been mutterings about Golos's "international repertoire" in the corridors of the Russian parliament.
For Petrovskaya, though, diversity has been one of the show's main strengths. "Apart from cultivating good taste in viewers, Golos promotes a feeling of tolerance," she wrote.
But, she warned, this ethos of tolerance is at the same time under fire from the "efforts of short-sighted politicians and the kind of TV that panders to their bigoted views".
Petrovskaya and her fellow critics have been particularly offended by the attitude of another official channel, Rossiya 1, awarding it an "Anti-event of the Year" prize for the "systematic incitement of xenophobic attitudes in its coverage of politics".
Over recent months, current affairs programmes on Rossiya 1 have repeatedly demonised homosexuals and highlighted fears about illegal immigrants. Channel One has been much more reticent in plugging these officially sanctioned messages.
At the same critics' awards ceremony, Golos carried off the "Programme of the Year" prize for, among other things, "restoring sincerity to light entertainment on TV".
Writing on Facebook, film critic and TV presenter Boris Berman echoed the prize citation, praising the show for its "honest competition" and "pure emotion". Golos is not only high-quality TV, he said, it is even "healing".
BBC Monitoring reports and analyses news from TV, radio, web and print media around the world. For more reports from BBC Monitoring, click here. You can follow BBC Monitoring on Twitter and Facebook.