Dublin solicitor Thomas Byrne jailed for 12 years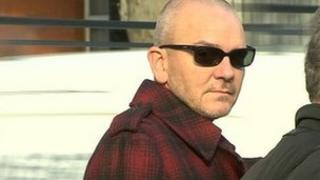 A former solicitor found guilty of more than 50 charges in the Republic of Ireland's largest ever fraud trial has been sentenced to 12 years in prison.
Thomas Byrne, 47, of Aungier Street, Dublin, was charged over property transactions between 2004 and 2007.
He was found guilty last month of the charges, which involved almost 52m euros (£43.5m), six banks and 12 Dublin properties.
Byrne ran a solicitor's practice in Walkinstown in south west Dublin.
Judge Patrick McCartan imposed a nine-year sentence for theft and a consecutive sentence of seven years for forgery, with the last four suspended.
He also imposed a concurrent five-year sentence for the remaining forgery offences.
Judge McCartan said Byrne was guilty of a severe breach of trust and the offences were carried out with skill and cunning and involved a colossal loss with very little recovered.
The court heard evidence from former clients, some of whom were elderly, while some were Byrne's childhood friends.
They spoke about their shock when they found out homes had been transferred into the solicitor's name without their knowledge and used as security for multi-million euro loans.
In some cases, it took years to unravel the fraud and restore the properties to their owners.
Byrne claimed in the witness box that the clients had consented to the transfers.
However, the judge described the guilty verdicts as almost inevitable.