Finland reindeer meat stocks under pressure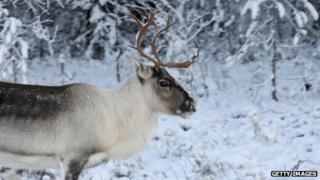 Increasing demand for reindeer meat is putting pressure on Finland's stocks, according to the country's national broadcaster.
Producers have turned down orders from Germany, France and Spain because they are already struggling to cater for the domestic market, Yle says.
Declining production means Finnish herders will reportedly sell fewer than 80,000 animals for slaughter this year.
Prices are expected to rise as the surge in interest continues.
A recent request from a German company for 100,000 animals was refused because there are not that many to be slaughtered in the whole of Finland, according to reports.
Some processors are already importing carcasses from Russia to help meet demand.
The reason for the decline in production in Finland is unclear, according to Yle.