Native American Hopi artefacts sold at Paris auction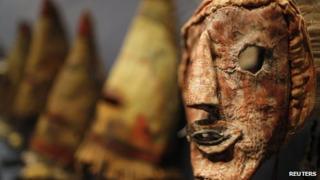 An auction of sacred objects from native American tribes has gone ahead in Paris, despite objections from the US embassy and activists.
The US embassy had asked for the sale to be suspended on behalf of the Hopi and San Carlos Apache tribes.
The embassy wanted to give them time to inspect the objects and see if they had a claim to them.
But EVE auctioneers said the sale was legal in France and proceeded under high security.
An auction of 70 Hopi masks in France earlier this year raised 930,000 euros (£780,000) after a legal challenge to stop the sale failed.
Pierre Servan-Schreiber, the Hopis' French lawyer, bought one mask for 13,000 euros on Monday and intends to return it to the tribe, according to the AP news agency.
'Living beings'
The US embassy's request to suspend the sale came after the failure on Friday of a legal challenge by advocacy group Survival International on behalf of Arizona's 18,000-strong Hopis.
In its letter, the US embassy said it had asked for the suspension so that the two tribes "might have the opportunity to identify the objects, investigate their provenance and determine whether they have a claim to recover the items".
The embassy quoted the 1970 Unesco Convention on the Export and Transfer of Ownership of Cultural Property, to which France is a signatory.
Hopi members say they believe the ceremonial masks and head-dresses were taken illegally from a reservation in Arizona in the early 20th Century.
The objects are like tombs representing their ancestors' spirits and should be considered as living beings, they say.
The sale of sacred Indian artefacts has been outlawed in the United States since 1990, but the law does not extend to sales overseas.
In a statement, the EVE auction house pointed out that a French judge had dismissed the tribe's legal challenge to the sale on Friday.
"On the one hand, the Hopi tribe had the possibility to lay out its arguments in front of the judge and was dismissed, and on the other hand, an exchange of detailed letters took place with the San Carlos Apache tribe," it said in a statement.
Auctioneers argue that the ban of such sales would have implications for the trade of indigenous art and could potentially force French museums to hand back collections they have bought.