What next for Mikhail Khodorkovsky?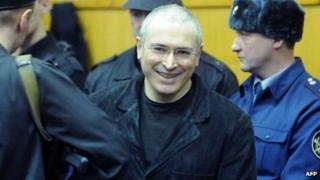 Unless Mikhail Khodorkovsky promised President Vladimir Putin he would leave Russia forever or refrain from politics, as many in Russia suggest, the perspectives for the former tycoon's career in Russia look brighter than many people imagine.
In a country where toughness and loyalty are valued above anything, Mr Khodorkovsky is the ultimate tough guy. During his 10 years in jail the former owner of the Yukos oil giant and once Russia's richest man underwent a dramatic transformation.
His "rags-to riches-to-freedom story" is already the stuff of Hollywood scripts - a story no Russian opposition leader could boast.
Russia has a prison population third only to the US and China. Here doing time in jail is a fairly common thing and is looked upon by many social groups if not with sympathy then with understanding.
'Potent symbol'
Crucially, it makes Mr Khodorkovsky a man of the people and a sufferer.
Mercy to prisoners is in the genetic code of Russian literature and Orthodox Christianity, with Fyodor Dostoyevsky's classic novel Crime and Punishment enshrining themes of guilt and redemption by suffering in prison as one of the key themes of Russian culture as a whole.
Mr Khodorkovsky, a practising Christian who has repeatedly spoken of social justice in his articles and interviews from jail, could become a potent living symbol of atonement for the real and perceived injustices of the 1990s privatisation era.
This is a powerful message in a country of disillusioned idealists that Russia has become under Mr Putin.
Ever since his arrest in 2003, Mr Khodorkovsky has mounted a subtle but effective campaign which turned him into the closest Russia has to a Nelson Mandela-Lech Walesa type of public figure.
It is destined to become every PR adviser's textbook case - no matter what Mr Khodorkovsky does with his life.
With thoughtful statements, articles and interviews, the jailed tycoon presents an image of a man who has a comprehensive vision for the future of Russia based on the rule of law and trust in people's common sense.
His approval ratings today, according to different polls, hover around 30-35%. This is less than Mr Putin's 63% during last year's presidential elections. However, no opposition figure comes even close to Mr Khodorkovsky.
Putin's successor?
The former prisoner has stated several times in the past that he does not want to become a politician but wants to engage in "good works for the benefit of society".
Whether this is his true intention remains to be seen.
But his stature, experience and sense of responsibility may well push Mr Khodorkovsky into the political limelight. He has already become Mr Putin's most formidable critic. He could become a real opponent with a fair chance of success.
Still, there is one more twist to the story.
In the ever shifting world of Russian politics, where weakness goes hand-in-hand with treachery, Mr Putin and Mr Khodorkovsky stand as two people who always kept their promises.
In an interview last year, Mr Khodorkovsky said - referring to a hero from Alexandre Dumas' 19th Century adventure novel: "I am no Count of Monte Cristo. I am not going to avenge myself when I leave prison."
Paradoxically, this probably makes him Mr Putin's most reliable successor, someone who could close the Putin chapter in Russian history on a theme of reconciliation.