Police purge in Turkey spreads to regions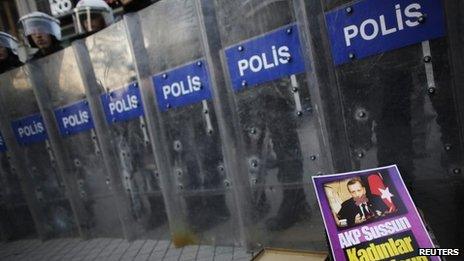 Police chiefs in at least 15 of Turkey's 81 provinces have been dismissed as the government struggles to contain a corruption scandal.
The chief of police in the capital Ankara was among those removed from his post, a day after 350 of his officers were reassigned or sacked.
Prime Minister Recep Tayyip Erdogan has accused the police of seeking to undermine his government.
Relatives of some of his ministers were arrested last month for corruption.
A crackdown on the police force in Istanbul, the biggest city, followed.
It was not immediately clear on what grounds the police chiefs in Ankara, Izmir and other parts of the country had been removed on Tuesday night.
In another development, the ruling party submitted a bill to parliament that would give the government more say over the appointment of judges and prosecutors.
Correspondents are connecting the crisis to a feud between Erdogan supporters and allies of Fethullah Gulen, an influential Islamic scholar living in self-imposed exile in the US.
Ankara police chief Kadir Ay lost his job hours after key members of the force in the capital, including the heads of the financial crimes, anti-smuggling and organised crime units, were dismissed.
In Izmir, the country's third city, police chief Ali Bilkay was reassigned shortly after officials at the city's port were arrested on suspicion of corruption.
Police chiefs were also dismissed in Adana, Antalya, Bursa, Diyarbakır, Erzurum, Gaziantep, Hatay, Kocaeli, Malatya, Mersin, Sakarya, Samsun and Trabzon, the Turkish daily Hurriyet writes.
A deputy head of the national police department, named by the paper as Muammer Bucak, was replaced under the same interior ministry decree.
In dawn raids in Istanbul and Ankara on 17 December, 52 people including three sons of cabinet ministers were arrested as part of a bribery investigation.
Mr Erdogan subsequently accused police chiefs of abuse of office and said he would not allow "political plotting".
Allies of Mr Gulen - who are especially influential in the police and judiciary - are believed to have turned against Mr Erdogan over his tough action against anti-government protesters in Istanbul last summer.
His plans to close a number of schools run by Mr Gulen's Hizmet movement are also thought to have antagonised them, though Hizmet denies this.
Before the feud, Hizmet helped Mr Erdogan to victory in three consecutive general elections.
Mr Erdogan has positioned himself as a potential candidate in this summer's presidential election but analysts say he now faces one of the biggest challenges of his career.