Turkish judges deplore Erdogan government reform plans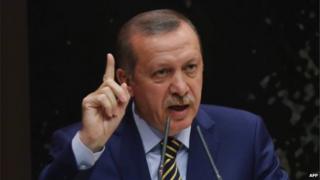 Turkey's top judicial body has condemned government plans to reform it, calling the move unconstitutional.
The Supreme Board of Judges and Prosecutors - the HSYK - said coming under justice ministry control would undermine its independence.
The reform is being debated in a parliament dominated by Prime Minister Recep Tayyip Erdogan's AK Party.
Some allies of Mr Erdogan have been arrested in a major corruption inquiry, while many policemen have been sacked.
There is intense rivalry between Mr Erdogan and a former ally, Fethullah Gulen, who has many supporters in the police and judiciary. Mr Gulen is an influential Islamic scholar living in self-imposed exile in the US.
In a statement quoted by the AFP news agency the HSYK said that "with the law amendment, the board is reporting to the justice ministry".
"The amendment is against the constitution and the formation of an independent body."
Judicial reform is a highly sensitive issue because Turkey is under pressure from the EU to bring its justice system into line with EU standards. Turkey hopes to join the EU, but progress in the negotiations has been very slow.
The Islamist-rooted AK Party is trying to overhaul institutions such as the judiciary and armed forces, traditionally dominated by secularists loyal to the values of Mustafa Kemal Ataturk, founder of the Turkish state.