Ukraine ex-minister Lutsenko 'out of intensive care'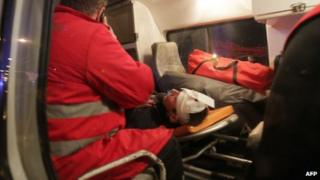 Ukraine's ex-Interior Minister Yuriy Lutsenko has been moved from intensive care after getting hurt in clashes in the capital Kiev, an MP says.
He was "in a stable condition" with concussion, Yuriy Polyachenko said.
Violence broke out between protesters and riot police on Friday when a court jailed three activists over an alleged terror plot.
The unrest took place amid ongoing protests at Ukraine's decision to pull out of a landmark deal with the EU.
Instead, President Viktor Yanukovych struck a deal with Russia in December, which has seen big cuts in the price of gas imports from Russia.
Moscow also supported Ukraine's finances with a $15bn purchase of government bonds.
The BBC's David Stern in Kiev says that while the ongoing protests have produced the largest demonstrations since the 2004 Orange Revolution, so far none of the protesters' main demands have been met.
Footage of clashes
Mr Lutsenko is the leader of the Third Ukrainian Republic opposition movement.
His party confirmed on Saturday that he had been placed in intensive care after suffering "closed-head injury, concussion and hematomas".
Mr Lutsenko's wife Iryna said the former minister was attacked by baton-wielding police as he tried to break up the violence.
The clashes occurred outside a courthouse in Kiev, where a large crowd had gathered for the verdict in a trial against members of a far-right organisation.
Following the judgment, angry demonstrators blocked buses carrying police officers.
The situation escalated after protesters threw paint on the windscreens and started rocking the vehicles,
Local news reports showed footage of badly beaten protesters, including Mr Lutsenko.
The leading opposition figure was a prominent member of jailed former PM Yulia Tymoshenko's pro-Western government.
He himself was jailed for embezzlement and abuse of office in 2010, but pardoned under EU pressure in April 2013.
The three ultra-nationalists were handed six-year prison sentences for allegedly plotting to blow up a statue of the revolutionary Soviet leader Vladimir Lenin in 2011.
The far-right has played an active role in the pro-EU movement, which they see as a counterbalance to Russian influence in Ukraine, our correspondent says.
The latest scuffles underscore the continuing tension between the demonstrators and President Yanukovych, our correspondent adds.
Protesters have been camped out in Kiev's Independence Square since the opposition campaign began two months ago.
There have been occasional outbreaks of violence as police tried unsuccessfully to clear the square using tear gas.
The last major opposition protest at the end of December was given further impetus by an attack on activist and journalist Tetyana Chornovol, who was severely beaten up on Christmas Day.
She had accused Mr Yanukovych of corruption over his financing of his official residence outside Kiev.
Mr Yanukovych denied any allegation of corruption and called for an investigation into the attack on Ms Chornovol.