Brussels calls on EU states to tackle extremism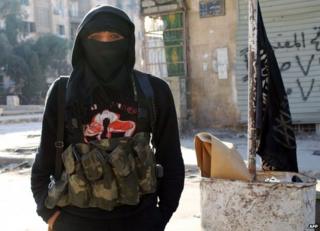 The European Commission has called on EU states to do more to pre-empt violent extremism, warning that it is fuelling terrorism.
Home Affairs Commissioner Cecilia Malmstroem said in a speech that no EU state had been spared from the threat.
While foreign terrorism had affected Europeans, she pointed out, some Europeans had also travelled abroad to commit terrorist acts.
Hundreds of young men from EU states have recently gone to Syria to fight.
The EU commissioner proposed a "new toolbox for Europe in countering extremism".
In addition to the Radicalisation Awareness Network created by the Commission in 2011, a European "knowledge hub" will be set up to offer advice and conduct research on violent extremism, Ms Malmstroem said.
The new centre, which will cost 20m euros (£16.6m; $27.3m) over four years, is one of 10 recommendations outlined on Wednesday.
'No time to lose'
"Terrorism is now being driven by a wide range of sources, including nationalist ideologies, al-Qaeda, violent left-wing groups, anarchists and, not least, right-wing ideologies," the commissioner said.
She singled out as examples the killing or beating of Roma people in Hungary by "Nazi gangs", a failed suicide bomb attack on Christmas shoppers in Sweden in 2010 and the murder of leftist rapper Pablos Fyssas in Greece last year, allegedly by a member of the neo-Nazi Golden Dawn party.
According to Ms Malmstroem, more than 1,200 Europeans have travelled abroad to combat zones where they may join groups with terrorist agendas and could pose a threat to security when they return home.
She did not mention countries or groups by name, but the presence of EU volunteers within Sunni Islamist groups opposed to Syrian President Bashar al-Assad is well documented.
EU states needed to do more, she said, to counter jihadist propaganda through the education system.
They should also support anyone wanting to participate in a de-radicalisation programme.
"The risk of radicalisation leading to violent extremism in the EU is growing, and ideology-motivated attacks cause more than just loss of life and economic damage - they divide communities across the EU and fuel extremist views," Ms Malstroem said.
"We have no time to lose, seeing the fast pace at which extremism, xenophobia and nationalism keep growing in Europe," she added.