'Irish property crash is over' says NAMA chairman Frank Daly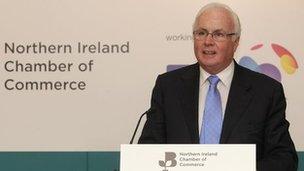 The head of the Republic of Ireland's 'bad bank' has said he believes the Irish property crash is over.
Frank Daly said: "I think there is evidence that we have reached the bottom, beginning to move off it."
Mr Daly chairs the National Asset Management Agency (Nama), set up by the government in response to the Irish banking crisis five years ago.
It is the biggest property owner in the Irish market, having taken over unpaid bank loans worth billions of euros.
It also controls about £1bn of property loans originally made by Dublin-based banks to customers in Northern Ireland.
Speaking to the Irish state broadcaster on Friday, RTÉ, Mr Daly said the recovery of the Irish property market was happening fastest in Dublin but added that he expected it would spread to Cork and other parts of the country.
He said the recovery was happening in both the residential and commercial property sectors.
"We see that through the increased interest in our properties, increased investor interest in Ireland."
"People now have confidence they are not going to go into negative equity the day they buy a property," he told RTÉ.
The Irish property market rapidly went from boom to bust more than six years ago, with the crash taking hold during the global financial crisis of 2008.
Irish banks were heavily exposed, following massive lending during the Celtic Tiger years, and the government tried to protect them by introducing a blanket guarantee on all deposits.
However, the controversial move saddled Irish taxpayers with billions in debt and by November 2010, the Irish government needed an international bail-out from the European Union and the International Monetary Fund (IMF).
Last month, after more than three years of austerity measures and public spending cuts, the Republic of Ireland became the first bailed-out eurozone nation to exit the regime.
On Friday, the Nama chairman predicted that over the coming years there would be a "steady trend of greater confidence" in the Irish property market but "nothing spectacular".
Mr Daly said there was already evidence of a "strong demand for prime properties", particularly in the commercial sector, and his organisation was responding to that demand.
However, he added that Nama would take a "responsible approach" as it is funded with taxpayers' money.
"What we're not going to do is get into the highly speculative approach that really got this country into trouble," Mr Daly said.
"It's a responsible approach. It is to a certain extent an entrepreneurial approach, but we're not going to go mad.
"There's enough monuments in this country to the extraordinary, speculative investment over the years and we're not going to add to that collection of monuments.
"But what we are going to do is invest wisely and contribute to the economic recovery by having properties available," he added.