Syria peace talks elicit no compromises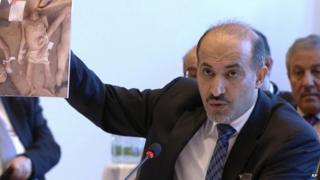 Fault lines have been laid bare during the first day of the Syria peace talks in Switzerland.
United Nations Secretary General Ban Ki-moon urged delegates to engage in constructive discussions, but neither side or their allies appeared prepared to abandon their positions, particularly on whether President Bashar al-Assad could remain in power.
About 40 foreign ministers will speak at the summit before direct Syrian talks are scheduled to begin in Geneva on Friday.
That would be the first face-to-face meeting between the Syrian government and Syria's National Coalition opposition since the conflict began in 2011.
Ban Ki-moon, United Nations Secretary-General
"After nearly three painful years of conflict and suffering in Syria, today is a day of fragile but real hope."
Sergei Lavrov, Russian Minister of Foreign Affairs
"We count on all outside players to encourage the Syrians to come to an agreement, to refrain and restrain the parties from attempts to predetermine the agreements and other steps that could disrupt the talks. Inter-Syrian talks will be neither quick nor easy."
John Kerry, US Secretary of State
''Bashar al-Assad will not be part of that transition government. There is no way, no way possible in the imagination, that the man who has led the brutal response to his own people, could regain the legitimacy to govern."
Walid Muallem, Syrian Minister of Foreign Affairs
"We came here as representatives of the Syrian people and state, and everybody should know that nobody in this world has the right to withdraw the legitimacy of a president or government... other than the Syrians themselves."
Ahmed Jarba, President of Syria's National Coalition
"We want to make sure we have a partner in this room that goes from being a Bashar al-Assad delegation to a free delegation, so that all executive powers are transferred from Bashar al-Assad. My question is clear: do we have such a partner?"
Wang Yi, Chinese Minister of Foreign Affairs
"A review of human history teaches that any conflict, however serious, can be resolved, and any hatred, however deep, can be removed. As long as there is sincerity and concrete action."
Catherine Ashton, European Union High Representative for Foreign Affairs and Security Policy
"We have to ensure that there is agreement on a political transition. We have to ensure that we see an end to violence; that we see access to food, to water, electricity and medical care."
Ahmet Davutoglu, Turkish Minister of Foreign Affairs
"We all know who are the terrorists in Syria. I wonder how the representatives of the regime think that they can deceive the entire international community with their lies... History will judge them very badly."
William Hague, UK Foreign Secretary
''Of course, the two sides will come here with very different positions, and we must understand that from the beginning. What is important is that we focus them all on achieving what was set out in the Geneva I communique - a transitional governing body with full executive powers drawn from regime and opposition."
Prince Saud Al Faisal, Saudi Arabia Minister of Foreign Affairs
"It goes without saying, that Assad has no role in Syria's future.''