Frankfurt killings: Two die at state court building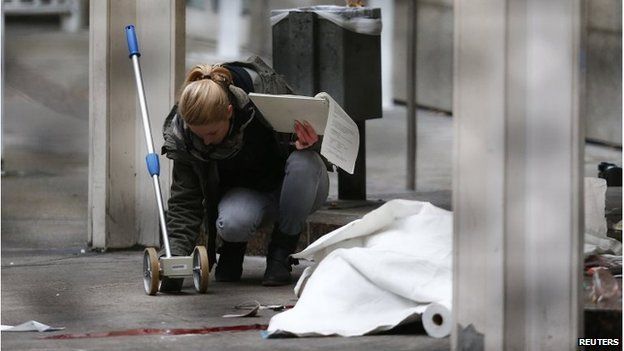 Two men have been killed in a shooting and stabbing attack at a court complex in Frankfurt.
The suspected attacker fled the scene on foot but was arrested nearby.
The incident happened at about 0845 (0745 GMT) at the state court in Germany's financial capital.
The two victims were aged 45 and 50, one of whom died at the scene and the other later in hospital, according to police.
They were on trial for murder after allegedly attacking three men with knives in a car-park in 2007 in Steinbach, an industrial area west of Frankfurt.
Police spokesman Ruediger Reges told N24 television that the attacker was believed to have fired shots in a courtyard at the courthouse, killing one of the victims. The other apparently fled inside the building, but the assailant followed and stabbed him.
A police statement said the suspect was a 47-year-old Afghan national and lived in Eschborn, a town near Frankfurt.
The court was sealed off by the police as a murder investigation began.
There was no immediate word on any possible motive.