Kosovo Serb politician Oliver Ivanovic arrested over war crimes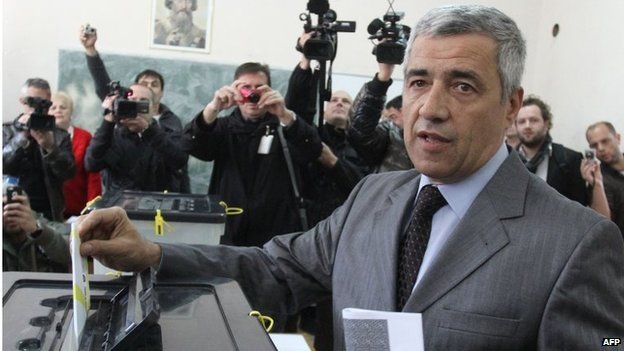 A leading Kosovo Serb politician has been arrested on suspicion of war crimes, according to EU officials.
The EU's police and justice mission in the region said Oliver Ivanovic had been identified as a suspect during a war crimes investigation soon after the 1990s Kosovo conflict ended.
Details of the alleged crimes have not been made public.
But according to local newspapers, Mr Ivanovic is suspected of having tortured and murdered ethnic Albanians and is believed to have been one of the organisers of a now disbanded Kosovo Serb vigilante group known as "Bridgewatchers" - suspected of violence against ethnic Albanians.
He was ordered detained for a month, over crimes "which occurred in 1999 and in 2000 against Albanian victims", his lawyer Nebojsa Vlajic said, adding that he has been transferred to a Pristina prison.
His supporters insist the allegations are politically motivated.
Mr Ivanovic is the first senior Kosovo Serb official to be arrested by the European Union Rule of Law Mission (EULEX) on suspicion of war crimes against ethnic Albanians.
EULEX has the power to take on sensitive cases that the local judiciary and police are unable or unwilling to handle.
Considered a relative political moderate, Mr Ivanovic narrowly lost to a hardline Kosovo Serb, Krstimir Pantic, in a recent election to be mayor of the Serb part of the northern town of Mitrovica, where he lives.
Mr Pantic refused to swear allegiance to Kosovo's ethnic Albanian authorities, so a new vote will be held on 23 February.
The 1998-1999 conflict began when ethnic Albanians rebelled against Belgrade, prompting a brutal crackdown.
Some 120,000 ethnic Serbs live in Kosovo, which declared independence from Serbia in 2008 and which counts 1.8 million inhabitants, most of whom are ethnic Albanians.
However, the 40,000 or so Kosovo Serbs living in the north do not recognise Kosovo's independence. Serbia also rejects Kosovo's secession.
Despite this, Kosovo has been recognised by more than 100 countries, including the United States and most EU states.
Related Internet Links
The BBC is not responsible for the content of external sites.