Roma girl Leonarda Dibrani loses France residency bid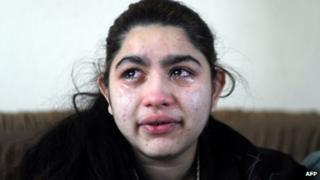 A French court has rejected an appeal for residency by the family of a Roma schoolgirl whose deportation from France last year sparked an outcry.
A court in the eastern city of Besancon upheld the October expulsion of 15-year-old Leonarda Dibrani, her parents and six siblings to Kosovo.
"My future came to an end today," said Leonarda, who is living in Mitrovica.
Leonarda's deportation triggered mass student protests after she was forcibly removed from her school bus.
Following the backlash, French President Francois Hollande offered Leonarda a compromise - to return to France on her own.
She rejected his offer.
On Tuesday, the Besancon court upheld an earlier ruling by a public magistrate that the local authorities' decision to deport the Dibrani family was justified as they had made no attempt to integrate into French society.
The Dibrani family can appeal against the latest ruling.
'Hard line'
The Dibrani family left Kosovo for France five years ago and were living in Levier, in the Doubs region of eastern France. They cited discrimination in Kosovo as grounds for asylum.
An order for their expulsion was issued after they lost their case. After two postponements, the family was put on a plane on 9 October to Pristina, Kosovo's capital.
Since then, they have been living in the city of Mitrovica.
Critics accuse President Hollande's administration of following the hard line on the Roma taken by his conservative predecessor, Nicolas Sarkozy.
Some 20,000 Roma have settled in France, coming mainly from Romania, Bulgaria and parts of the former Yugoslavia like Kosovo.