Liberal Russian TV Dozhd fights closure amid boycott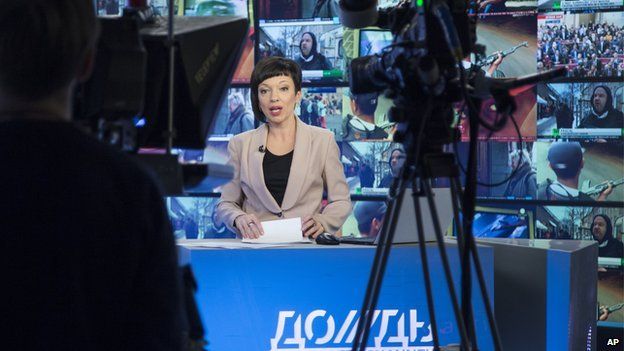 The Russian TV channel Dozhd ( Rain), seen as one of the few liberal alternatives to the pro-Kremlin media, is at risk of closure, its owner says.
The last major satellite TV service to offer Dozhd to customers - Trikolor - has decided to drop the channel.
Last week there was fury on social media when Dozhd asked Russians whether Leningrad (now St Petersburg) should have been surrendered to the Nazis in World War Two to save lives.
Several TV firms then dropped Dozhd.
Dozhd has broadcast the views of leading opponents of President Vladimir Putin, including anti-corruption campaigner Alexei Navalny during his unsuccessful bid to become mayor of Moscow.
The much-criticised Dozhd opinion poll coincided with the 70th anniversary of the Soviet breakthrough which pushed besieging Nazi German forces back from Leningrad. More than 700,000 Soviet citizens died in the Nazi blockade between September 1941 and January 1944.
Dozhd later deleted the poll and apologised.
"The switch-off of Dozhd by the last major operator practically means closure of the TV channel," its majority stakeholder Alexander Vinokurov tweeted.
However he told a news conference broadcast by Dozhd on Tuesday that talks would take place "with the cable operators and the sides involved in this process, until we can restore the network".
Dozhd director-general Natalya Sindeyeva said Trikolor's decision to drop Dozhd- expected on 10 February - "would basically mean the death of the channel".
"It can't exist from the advertising budgets, which will be non-existent if we don't have enough viewers," she said.
But when asked what would finally force Dozhd to shut down, Ms Sindeyeva said: "We won't have a situation like that, we won't shut the channel down, it will keep working". Dozhd would carry on working as normal, she added, and no-one was being laid off.
In remarks to the news agency AFP the channel's chief editor Mikhail Zygar said Trikolor's decision was "a red line which makes conclusively clear that a serious war is being waged against us".
Dozhd is still broadcasting on its website, charging an annual subscription fee of 1,000 roubles (£17; $28).
Related Internet Links
The BBC is not responsible for the content of external sites.