A sale of Joan Miro artwork is cancelled amid a legal dispute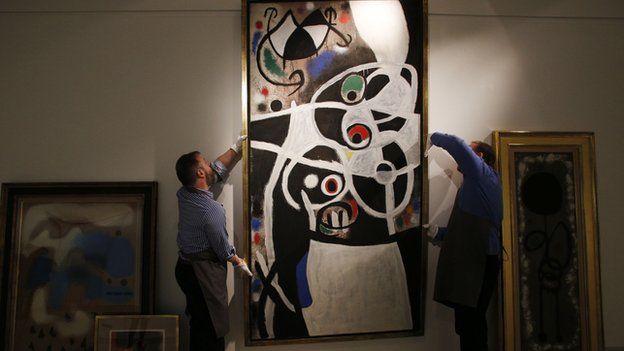 A sale of 85 paintings by Spanish artist Joan Miro by the Portuguese government has been cancelled.
The state took over the artworks - valued at $49m (£30m) - as part of the assets of Portugal's BPN bank, which was nationalised in 2008.
The sale had been due to go ahead in London on Tuesday.
But it was cancelled by auctioneer Christie's, which cited "a dispute before the Portuguese Court, to which Christie's is not a party".
A court in Portugal had earlier rejected an injunction by opposition politicians attempting to block the sale, which aimed to recoup some of the millions the government lost rescuing the failed bank during the financial crisis.
Legislators belonging to the opposition Socialist Party had requested the injunction, saying the paintings had been taken out of Portugal illegally.
In a statement, Christie's said: "While the recent injunction to stop the sale was not granted, the legal uncertainties created by this ongoing dispute mean that we are not able to safely offer the works for sale.
"We have a responsibility to our buyers to be sure that legal title can transfer to them without issue. Since the court's decision calls this into question at this time, Christie's is required to withdraw the works from sale.
"We hope that the parties in this dispute can resolve their differences in due course."
The most highly valued piece in the collection, Women and Birds (Femmes et Oiseaux), had been expected to fetch between $6.5m and $11.5m.
Another of Joan Miro's most valued works, Painting: Blue Star (Peinture: Etoile Bleue), was valued between $4m and $5.7m.
The 1927 work set an auction record for the Spanish painter when it sold for more than $37m in London in 2012.
Christie's described the collection as "one of the most extensive and impressive offerings of works by the artist ever to come to auction".
The authorities in Portugal have had to enforce drastic austerity measures over the past three years under a bailout agreement.