Kosovo students clash with police in Pristina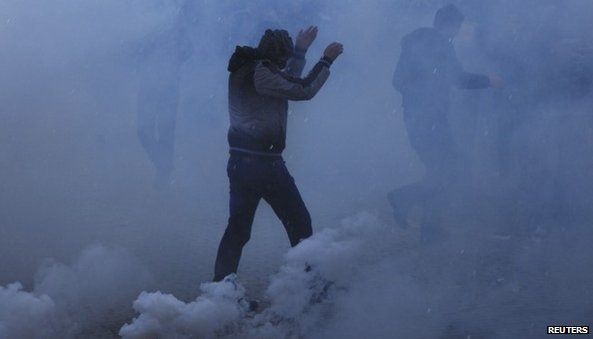 Police in the Kosovan capital Pristina have used tear gas to disperse hundreds of mostly student protesters at the country's main public university.
The demonstrators were calling for the head of the university and some of his staff to resign following allegations that they falsified research in order to get academic credentials.
Dozens of policemen and protesters are reported to have been injured.
Correspondents say the backdrop to the protests is widespread unemployment.
Between 35 to 45% of the workforce is estimated to be unemployed with only a tiny proportion of the 30,000 people who enter the job market every year able to find work.
Police said that the clashes began when protesters threw rocks and red paint at them.
At least 29 policemen were injured and up to 30 protesters were arrested.
Local media said that dozens of students had sought medical help, mostly for the effects of tear gas.
The students say that university head Ibrahim Gashi and other teaching staff published works in fake online journals in order to boost their academic qualifications, the Associated Press reports.
In a statement, the governing body of the university asked the protesters for more time to take "measures against all those who are responsible for this situation".
Parliament was reported by the Reuters news agency to have failed to pass a vote demanding that the head of the university resign, with coalition government political parties opposing the move.
Six years after unilaterally declaring independence from Serbia - which does not recognise the separation - Kosovo is one of the poorest in Europe.