Romania's President Basescu fined for Roma comments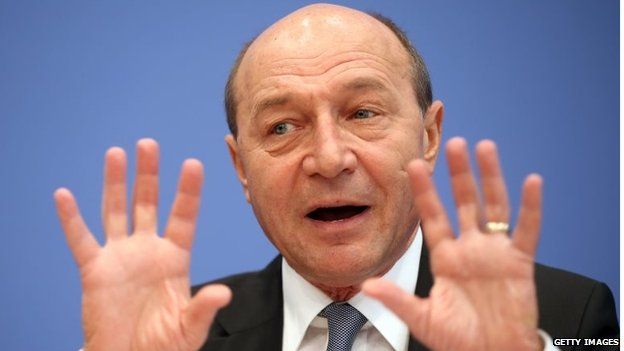 An official anti-discrimination agency has fined Romania's president 600 lei ($185; £112) for saying Roma avoid work and make a living by stealing.
The National Council for Combating Discrimination initially declined to take the case because he made the comments outside the country.
But the Supreme Court ordered the autonomous body under the control of parliament to take the case.
President Traian Basescu did not immediately react to the ruling.
The agency fined Mr Basescu for having said "very few of them (Roma) want to work'' and "traditionally many of them live off stealing", during a 2010 news conference in Slovenia.
Romania officially has 620,000 Roma (Gypsies) but the number is believed to be far higher because many do not declare their ethnicity to avoid widespread discrimination.
Many Roma live on the margins of Romanian society in bad housing and squalid conditions, with little access to government services such as health and education.
Unemployment rates are high and life expectancy is far below the national average.
It is not the only time Mr Basescu has made controversial statements about the Roma.
Speaking in Berlin in January, while defending the right of Roma to move freely around the European Union, he said Roma irritate people by begging and are "perhaps more troublesome than a banker who makes tens of billions disappear from a bank".
He did add that banks cost governments far more during a financial crisis.
Related Internet Links
The BBC is not responsible for the content of external sites.