Italy PM Letta in battle for survival with Matteo Renzi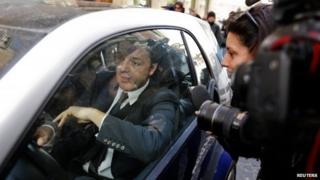 Italian PM Enrico Letta has held talks with party leader Matteo Renzi amid speculation that he is about to be replaced by his younger rival.
Mr Renzi, the 39-year-old mayor of Florence, was elected leader of the Democratic Party (PD) in December.
Mr Letta, 47, who formed a coalition in April after an election stalemate, has been publicly criticised by Mr Renzi.
He is due to present the government's reform programme despite the doubts over his political fate.
The prime minister, whose coalition includes small centre-right parties, has said the set of proposals, entitled "Commitment 2014", will focus on "economic revival". His government has so far failed to pull Italy out of recession and reduce the 41% rate of unemployment among 15-24 year-olds.
Italian media reports speak of crucial hours for the future of the government, with a Democratic Party meeting scheduled for next week brought forward to Thursday morning. It is thought the party's 140-members leadership committee may decide whether to continue backing the government.
Mr Letta's meeting with the PD leader on Wednesday lasted around an hour at the prime minister's office, the Chigi palace, before Mr Renzi left without making a statement, reports say.
The party leader who has already said he favours early general elections later announced that he would make his intentions clear on Thursday afternoon.
"What I have to say, I will say tomorrow at the leadership meeting at 15 (14:00 GMT), openly, in live streaming," Mr Renzi tweeted.
President Giorgio Napolitano, who appointed Mr Letta as prime minister, said earlier a decision on the fate of the government was up to the PD.
One centrist MP in the coalition, Andrea Romano, told Italian TV he hoped the prime minister would show "generosity" and allow the PD leader the chance to govern.
But Renato Brunetta, a leading opposition politician with former Prime Minister Silvio Berlusconi's Forza Italia party, complained on Wednesday that Italy was returning to an era of unstable government.
"If Renzi is going to be prime minister, he'll be the third prime minister who has not been backed by a popular vote. [Mario] Monti, Letta and now maybe Renzi," he told Italian radio.
Economy Minister Fabrizio Saccomanni, a former Bank of Italy director general appointed by Mr Letta, said that the government needed to continue with the same energy and effectiveness, whoever was in charge. "Whether it is us or others who carry it out has little importance, what is important is that there are no interruptions," he said.
President Napolitano has himself been criticised this week after reports that he had a meeting with Mr Monti months before the fall of the centre-right Berlusconi government amid economic turmoil in late 2011.
Berlusconi was replaced as prime minister by Mr Monti, whose technocrat administration lasted just over a year. Italy's former long-serving prime minister was thrown out of parliament last year after a tax fraud conviction.
Mr Renzi angered some members of his party last month by agreeing an electoral reform deal with Berlusconi that brought the Forza Italia leader back to the centre stage of Italian politics.