Italian press wary of Renzi's rise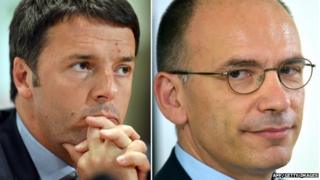 Italian papers react with scepticism, bordering on alarm, to the news that Democratic Party (PD) leader Matteo Renzi could take over the premiership from Enrico Letta.
Many commentators see the manoeuvring within the party - that led Mr Letta to announce his intention to resign - as a desperate attempt to cling to power come what may and to avoid the prospect of an early election.
Several feel that Mr Renzi's ambition has got the better of him, and warn that if he does become prime minister, Italian voters will see the move as a ruthless power-grab.
Writing in the Rome-based Il Tempo, Gian Marco Chiocci asks "What will the citizen who votes for the PD… think of this umpteenth family tragedy? With Renzi's stabbing of Letta we have a new government with the same, identical majority as before. A government not elected by the citizens (Letta) has been replaced by another non-elected government (Renzi)."
Survival instinct
Massimo Franco, writing in the Milan-based paper Corriere della Sera, sees the Democratic Party's backing of Mr Renzi as an act of desperation: "The way in which the nomenclatura of the PD lurches from one leadership to another does not seem a sign of conviction, but of a primitive survival instinct. It is difficult to avoid the suspicion that the great consensus that has grown up around Renzi… comes from fear of an early election in May."
Ezio Mauro, writing in the Rome-based La Repubblica, also feels that there is something irrational about the way in which the party has united behind Mr Renzi: "Renzi makes no promises of change, he himself is a promise of change. Something organic, pre-political, natural, even primitive."
The Repubblica commentator is concerned that Mr Renzi's rise to power breaches democratic norms: "So now it's up to Renzi, prematurely, short-circuiting the normal methods, perhaps even overturning propriety."
Penalty shot
Cesare Martinetti in the Turin-based La Stampa uses a football metaphor to describe Mr Renzi's apparent determination to secure the top job: "So Matteo Renzi has fearlessly gone for his penalty shot, as he said he would. But we still don't know if he's scored a goal or if the ball has gone over the bar...
"The logic of politics is ruthless… It was an illusion and mistaken to think that someone like Renzi would patiently wait his turn."
And Stefano Folli, writing in the financial paper Il Sole 24 Ore, warns Mr Renzi not to underestimate the challenges that will face him if he does become prime minister.
"If Mr Renzi does go to the Palazzo Chigi [the prime minister's official residence], it will have to be to begin a serious process of reform."
BBC Monitoring reports and analyses news from TV, radio, web and print media around the world. For more reports from BBC Monitoring, click here. You can follow BBC Monitoring on Twitter and Facebook.