Ukraine: Seven dead in blast at Pivnichna coal mine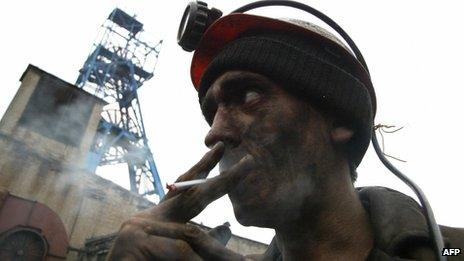 Seven miners have been killed and nine injured in an explosion at a mine in eastern Ukraine, officials say.
The blast took place on Monday night at the Pivnichna mine in Ukraine's mineral-rich Donetsk region.
The bodies of the victims were recovered in the early hours of Tuesday and work at the mine has been suspended, Ukraine's emergencies ministry says.
Ukraine's coal mines are among the most dangerous in the world.
The industry suffers from poor infrastructure and lax safety standards.
The cause of the explosion at the state-run Pivnichna mine was being investigated but Ukrainian media blamed it on a gas leak.
The injured were taken to hospitals in Donetsk and Makiyivka.
Three years ago, an explosion in eastern Ukraine left at least 16 people dead.
More than 100 miners died in 2007 in an explosion at Zasyadko mine, also in the Donetsk area.