Ukrainian unrest spreads both east and west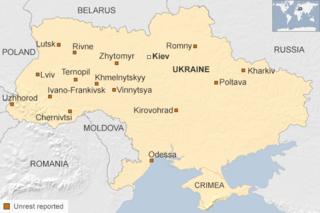 Unrest in Ukraine has not been confined to the capital Kiev. Clashes between police and anti-government protesters have also been happening in other cities across the country.
The crisis began in November when President Viktor Yanukovych rejected a landmark association and trade deal with the EU in favour of closer ties with Russia.
It has since evolved into a broader anti-government movement that has swept through western parts of the country, where many are in favour of closer ties with the EU, as well as some pockets in the east, where people have historically supported closer ties with Russia.
Western Ukraine
Over the past two days, protesters have seized regional administrative and police buildings in the western cities of Lviv, Ternopil, Rivne and Ivano-Frankivsk.
In Lviv - one of the protesters' strongholds - a local police station and an arms depot burned down on Thursday, according to regional officials.
Trains between Kiev and Lviv were also temporarily suspended on Thursday, the Interfax-Ukraine news agency reports. A railway spokeswoman said this was because of damage to the lines.
An arms depot belonging to the interior ministry in Ternopil was reportedly robbed by 200 masked youths on Thursday. Explosives, non-lethal weapons and 11 cars were stolen, according to Ukraine's UNIAN news agency.
In Ivano-Frankivsk, the regional council passed a vote of no confidence in the Ukrainian president and said it considers him the "illegitimate head of the Ukrainian state", according to UNIAN.
Earlier, activists belonging to the far-right Right Sector protest movement seized computers from a local customs offices, effectively closing down its operations.
In the western city of Uzhhorod, riot police refused to go to Kiev to join the clampdown on protesters, and swore an oath of loyalty to the Ukrainian people, UNIAN reports.
Video has also emerged of a regional governor in western Ukraine being manhandled by protesters on Wednesday.
The governor of Chernivtsi, Mykhailo Papiyev, is seen being grabbed and tugged by a crowd of protesters on the steps outside a seized regional administration building.
North-western Ukraine
A government office was seized in the north-western city of Zhytomyr on Wednesday and the governor of the Volyn region was captured by protesters in the city of Lutsk.
YouTube footage shows Mr Bashkalenko handcuffed to a pole on a stage in central Lutsk, with water poured on him "to get an idea how protesters in Kiev captured and tortured by police felt". Protesters also demanded he sign a resignation statement.
Northern Ukraine
The wives and family of policemen in Romny, northern Sumy Region, reportedly blocked the main road to try to prevent police from leaving their units on Thursday.
Central and southern Ukraine
Thousands of people reportedly gathered in central Vinnytsya on Thursday, calling on all locals to take part in a strike, UNIAN news agency reports. Protesters have also reportedly blocked the tramline into the city.
Five policemen were injured after the regional state headquarters in Poltava came under attack by protesters late on Wednesday, UNIAN reports. They eventually retreated after agreeing a truce with police, it adds.
In a separate attack, the offices of the ruling Party of Regions were set on fire earlier in the day.
A woman was also reportedly shot dead during an attempt to storm a building belonging to the security services in Khmelnytskyy, west of the capital.
In Kirovohrad and in the southern city of Odessa, the regional administrations barricaded their offices using sandbags to prevent a possible assault by protesters, Interfax-Ukraine reports.
Eastern Ukraine
In Ukraine's second largest city of Kharkiv, protesters tried to block a unit of troops from heading to Kiev on Thursday.
A dozen of the protesters were arrested and received 15-day jail sentences, Interfax-Ukraine reports.