Ukraine crisis: No talk of split in eastern city of Kharkiv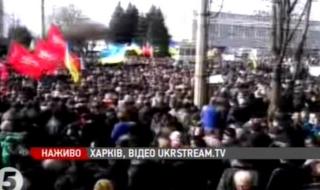 Here in the eastern Ukrainian city of Kharkiv, the most important thing coming out of a congress of pro-Yanukovych politicians is the sentiment that they don't want Ukraine to split but to remain united.
Kharkiv's regional governor, Mikhaylo Dobkin, told the meeting of MPs from predominantly Russian-speaking areas of eastern Ukraine and Crimea : "We're not preparing to break up the country. We want to preserve it."
However, they have refused to recognise developments in the national parliament. They are calling "fascist" those who have taken power in Kiev, and do not want armed fighters to come to their towns.
In a resolution they determined to "take responsibility for safeguarding the constitutional order, legality, citizens' rights and their security on our territories".
Near the sports palace where the congress is taking place, there is a big rally of thousands of people in support of Kiev's opposition protesters. But power has shifted in Kiev and the authorities' mood here has changed with it.
Previously, the demonstrators were beaten and dispersed. But now they are being protected by police from several hundred pro-Russians who are shouting at them.
At the time of writing, it is unclear where President Viktor Yanukovych is. His aide Hanna Herman has said he is here in Kharkiv. He's not going to take part in the congress but will make a statement on TV, she says. She suggests he will visit other regions of Ukraine before returning to Kiev.
Ms Herman is attempting to present everything as under control and in the president's hands. But the truth is rather different.
The obvious question is: where would the president stay if he returned to the capital? What then of the prospect of a split between pro-Russian areas such as Crimea and the rest of Ukraine?
The congress in Kharkiv is clearly rejecting the idea of separation. One of the speakers clearly condemned Crimean deputies for raising the very prospect of a split?
But what do they want?
They are talking about protecting themselves from the "gangs" from Ukraine's west.
And they have denounced Kiev's opposition politicians for regarding any contacts with Moscow that Crimeans or eastern Ukrainians have had as treason and an attempt at separation.
Strong rhetoric is often used in Ukraine when discussing internal problems. In the end, not even pro-Russian Ukrainians want to be subject to Moscow.