Ukrainian MPs vote to oust President Yanukovych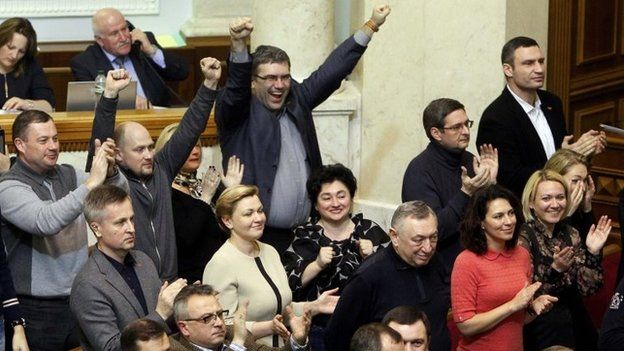 Ukrainian MPs have voted to oust President Viktor Yanukovych and hold early presidential elections on 25 May.
The vote came after police stopped guarding presidential buildings, allowing protesters in, and parliament made new high-level appointments.
Mr Yanukovych said it was a "coup" and vowed not to stand down.
And on a day of fast-moving events, prominent opposition leader Yulia Tymoshenko was released from detention, hours after MPs authorised the move.
She left the hospital in the eastern city of Kharkiv where she had been held under prison guard, and flew to Kiev, where she addressed the demonstrators in Independence Square.
Ms Tymoshenko was freed following a vote by parliament on Friday demanding her release.
She was sentenced to seven years in jail in 2011 after a controversial verdict on her actions as prime minister.
Her supporters have always maintained this was simply Mr Yanukovych taking out his most prominent opponent, and her release has always been a key demand of the protest movement.
On Thursday, the bloodiest day of recent unrest, at least 21 protesters and one policeman died.
Ms Tymoshenko told journalists at Kiev airport that those behind violence "must be punished", the Interfax agency reports.
The opposition is now in effective control of the capital Kiev, with Mr Yanukovych in Kharkiv, near the Russian border, after travelling there late on Friday night.
The Interfax news agency reported parliament speaker Oleksandr Turchynov as saying Mr Yanukovych had been stopped by border police in an attempt to flee to Russia and was now somewhere in the Donetsk region.
Earlier on Saturday, protesters walked unchallenged into the president's office and residential compounds.
The vote to "remove Viktor Yanukovych from the post of president of Ukraine" was passed by 328 MPs.
Such ballots, passed by what is called constitutional majority, are binding and enter into force with immediate effect, the BBC's Ukraine analyst Olexiy Solohubenko reports.
In an address televised before the vote to impeach him, Mr Yanukovych described events in Kiev as a "coup".
He insisted he was the "lawfully elected president" and compared the actions of the opposition to the rise to power of the Nazis in 1930s Germany.
In his address Mr Yanukovych also called a raft of votes in Ukraine's parliament on Friday "illegitimate", claiming that MPs had been "beaten, pelted with stones and intimidated".
However, he did admit that that some had left his Party of the Regions, calling them "traitors".
President Yanukovych also said his ally, parliamentary speaker Volodymyr Rybak, was forced to resign because he had been physically beaten.
Mr Rybak resigned on Saturday morning citing ill health, and was replaced by Mr Turchynov, a Tymoshenko ally.
Another Tymoshenko ally, Arsen Avakov, was appointed interim interior minister, replacing Vitaly Zakharchenko - who was sacked on Friday after being blamed for the deaths of civilians in last week's crackdown on protests.
Before the vote to oust Mr Yanukovych, Polish Foreign Minister Radoslaw Sikorski - one of three EU ministers who mediated between the two sides this week - tweeted that there had been "no coup in Kiev".
Mr Sikorski, along with the German and French foreign ministers, presided over talks that led to a pact on Friday between Mr Yanukovych and opposition leaders which now seems to have been overtaken by events.
The deal followed several days of violence in which dozens of people died in a police crackdown on months of protest. It called for the restoration of the 2004 constitution and the formation of a national unity government.
The agreement failed to end the protests overnight with huge crowds remaining in the Maidan calling for Mr Yanukovych's resignation.
Russian Foreign Minister Sergei Lavrov said the deal had been "sharply degraded by opposition forces' inability or lack of desire" to respect it and accused "illegal extremist groups" of taking control of Kiev, Reuters reports.
The protests first erupted in late November when President Yanukovych rejected a landmark association and trade deal with the EU in favour of closer ties with Russia.