Irish President Michael D Higgins to attend Royal Albert Hall concert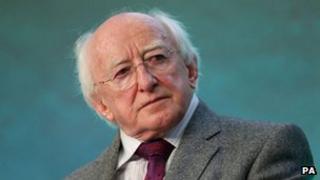 Irish President Michael D Higgins will attend a concert celebrating the best of Irish and British artists during his state visit to the UK in April.
He will be guest of honour at the event, Ceiliúradh (celebration), at the Royal Albert Hall.
It is one of a number of engagements he will attend during his three-day visit.
The president is the first Irish head of state to make a state visit to the UK, after accepting an invitation from the Queen.
In May 2011, the Queen became the first British monarch to visit the Republic of Ireland.
The concert at the Royal Albert Hall on 10 April will feature both world-renowned and emerging artists from Ireland and the UK.
The evening will be comprised of music, spoken word and dance.
Speaking in November after the visit was announced, President Higgins described his planned state visit to the UK as "significant".
He said the trip would "build on the clear connections that are there".
While he has visited the UK several times since becoming president, these were not state visits.
Although the official programme is yet to be finalised, it is expected that Mr Higgins and his wife Sabina will stay at Windsor Castle from 8 April to 10 April.
The president is expected to undertake official visits to the prime minister at Downing Street as well as to the leader of the Opposition.
In line with other state visits it is likely the Lord Mayor of the City of London will host a banquet for the president, and it is also expected that the Queen will host a state banquet.
A state visit is the highest level of diplomatic recognition between two countries in a bilateral relationship.
The key difference between an inward state visit to the UK and other routine official visits, is the direct involvement of the Queen and other members of the Royal Family, and the ceremonial elements that are always integral to these programmes.