Italy PM Matteo Renzi secures final confidence vote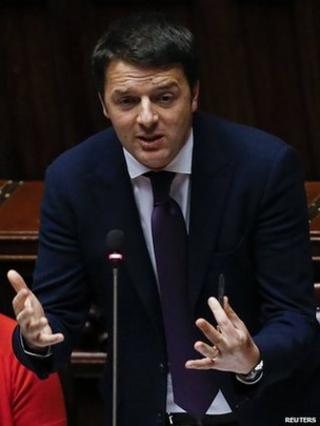 Italy's Prime Minister Matteo Renzi has won a vote of confidence in the lower house of parliament, backing his government's programme of rapid economic and institutional reform.
Mr Renzi, 39, won a comfortable margin in the Chamber of Deputies, with 378 MPs voting in favour to 220 against.
He has promised to cut income tax, invest in jobs and abolish the Senate or upper house as a law-making body.
The new 16-member cabinet is the youngest in modern Italian history.
The outcome of the vote came as no surprise, with PM Renzi's centre-left Democratic Party holding a strong majority in the lower house.
His government won a confidence vote earlier on Tuesday in the upper house, which was seen as a key test of his power in uniting warring factions in parliament.
Importance of EU, Mediterranean
Addressing the lower house before the vote, Mr Renzi said: "Italy's finest page has yet to be written".
He vowed to overhaul the tax system by "a gigantic operation of simplification" and cut the high level of unemployment.
He spoke of the importance of the European Union, calling Italy's presidency of the EU in the second half of 2014 "a gigantic opportunity".
"We want a Europe to which Italy does not turn just to follow a line but gives a fundamental contribution, because without Italy there is no Europe," he said.
He also told lawmakers that his first foreign trip as leader would be to Tunisia "and not Brussels or Berlin" because "we hope that the Mediterranean will return to centre-stage".
Earlier, he told the Senate that Italy, the third biggest economy in the eurozone, had to get serious about tackling its public finances.
He has yet to give specific details of the proposed plans, which include electoral and constitutional reform, an increase in welfare payments for the unemployed and cutting payroll tax to make it cheaper for companies to hire staff.
The 16-strong government, in which half the ministers are women, has an average age of under 48, the youngest in modern Italian history.
Mr Renzi, who is the outgoing mayor of Florence, was sworn into office on Saturday after sweeping his rival Enrico Letta from power earlier this month.
The new prime minister has named a cabinet largely unknown outside Italy, with Pier Carlo Padoan of the Organisation for Economic Cooperation and Development given the post of economy minister and Mr Renzi's PD party colleague Federica Mogherini replacing Emma Bonino at the foreign ministry.
Two figures in Italian business, Federica Guidi and Giuliano Poletti, have been given the industry and labour portfolios.