Turkish president signs off new controls over judiciary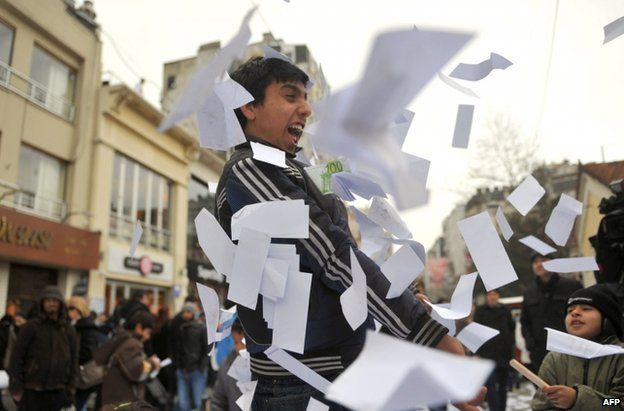 Turkish President Abdullah Gul has signed a controversial law which will give the government more control over the country's judiciary.
Under the new law, the justice ministry will have a greater say in the appointment of judges and prosecutors.
Such appointments are made by an independent body, the High Council of Judges and Prosecutors.
Prime Minister Recep Tayyip Erdogan has accused prosecutors of trying to undermine him with a bribery inquiry.
Hundreds of members of the judiciary or police officers have been reassigned or sacked since December, when the sons of three of his cabinet ministers were arrested on suspicion of bribery.
Mr Erdogan reacted furiously on Tuesday after audio recordings emerged that appeared to show him talking to his son, Bilal, about hiding large sums of money.
Ankara's chief prosecutor has opened an investigation into the recordings, which Mr Erdogan says were fabricated.
On Wednesday, members of the main opposition party, the Republican People's Party (CHP), mocked the government at a rally in Istanbul, handing out stacks of fake euro banknotes.
Mr Erdogan, in power for 11 years, has faced mounting opposition to his rule in the past year.
He accuses a former ally, US-based cleric Fethullah Gulen, of orchestrating December's corruption investigation and of trying to form "a parallel state" in Turkey.
Last month, the High Council of Judges and Prosecutors condemned the government's draft law as an attempt to undermine its independence.
Fighting broke out in parliament as the bill was being debated.
But Mr Gul, a member of Mr Erdogan's Islamist-leaning Justice and Development Party (AKP), said disputed articles in the legislation had been addressed by amendments.
"After the correction of these clear violations, I found it more appropriate for the law to be published and for the Constitutional Court to assess the other articles of the law which are subject to pro and con arguments," he said in a statement issued by his office.
The CHP is expected to file a challenge to the law at the Constitutional Court, seeking its annulment.
The recordings that emerged this week, which could not be independently verified, are said to be of four conversations dating back to 17 December.
Cagil Kasapoglu from BBC Turkish says that, interestingly, neither the prime minister nor his party's spokespeople have denied that the voices on the recordings belong to Mr Erdogan and his son.
They said their voices had been "montaged" to implicate them, our correspondent says.
During the conversation, a voice can be heard discussing how to reduce the funds to "zero" by distributing them among several businessmen.
At one point, the second voice says some 30m euros ($40m/£24m) remains to be disposed of.
In another development, eavesdropping devices have reportedly been found in Mr Erdogan's office and home.
According to Turkish newspaper Milliyet, between 20 and 30 people were used to plant the bugs.
Related Internet Links
The BBC is not responsible for the content of external sites.