Spain's Altamira caves reopen for a day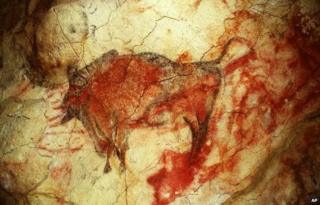 Spain's famous Altamira caves have briefly opened to the public, for the first time in 12 years.
Five elderly Spaniards chosen in a draw marvelled at its ice-age paintings of bison, bulls and other animals.
The visit, including time accessing the caves, lasted only just over half an hour - allowing the group about eight minutes to admire the paintings.
The caves were closed in 2002 to protect the paintings from microbiological damage.
The site has been dubbed the "Sistine Chapel Ceiling of Cave Art", BBC Spain correspondent Tom Burridge reports.
'Hair-raising' experience
The visitors emerged from the cave amazed at what they had just seen, our correspondent says.
"The colours are like they were painted, the day before yesterday," retired teacher Antonio Diaz said.
Student Andrea Vicente said the experience "makes your hair stand on end".
Another visitor, journalist Alvaro San Miguel, said that inside the caves he felt the weight of history while admiring the rocky ceiling.
The paintings date back 22,000 years and were discovered in 1876 by a local archaeologist and his daughter. For more than 20 years afterwards, the images were dismissed as fakes.
In the years that followed they were damaged by the breath of human visitors and the caves were eventually closed to the public. For the past 12 years, visitors have only been able to see replica images in a museum nearby.
Thursday's three male and two female visitors were chosen from a list of people who had visited the replica caves in the Museo de Altamira. They were invited, at random, to enter a draw to visit the original caves.
During the visit, dozens of sensors monitored changes in the cave's temperature and humidity, to see if more visitors can be allowed in in future, our correspondent says.
As part of the experiment, a total of 192 people will be allowed to see the paintings in weekly visits until August, El Pais newspaper reports.
Despite the historic nature of the viewing, taking pictures was not allowed. Nor were visitors allowed to touch the rock.
They were dressed in protective clothing to help prevent contamination of the site.
The images have survived so long because the soluble pigment used to paint them became fixed to their limestone rock canvas.