Christian Wulff, ex German president, found not guilty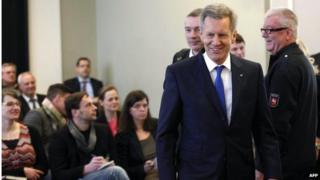 A German court has cleared the country's former president Christian Wulff of corruption.
"The accused Wulff has been found not guilty," presiding judge Frank Rosenow told Hanover's state court.
He added that Mr Wulff was entitled to compensation for police searches during the investigation.
He was once a deputy leader of Chancellor Angela Merkel's conservative party and her choice for the largely ceremonial role of president.
The former head of state resigned two years ago over the allegations he illegally accepted favourable loan and hotel stays from friends when he was governor of the state of Lower Saxony, before becoming president in 2010.
The charges related specifically to some 720 euros ($990; £600) in hotel and entertainment costs allegedly paid by German film producer David Groenewold for Mr Wulff and his family during a visit to Oktoberfest in Munich in 2008.
In return, he was accused of having lobbied German companies to support Mr Groenewold's work. He had faced up to three years in jail, if convicted.
Mr Wulff resigned amid unfavourable coverage in the German media over his links to businessmen.
The pressure on him increased at the end of December 2011 with allegations, published in Bild newspaper, about a low interest home loan received from the wife of a businessman in 2008.
He was accused of giving misleading statements about the loan, and later apologised to the editor of Bild, Kai Diekmann, for leaving an angry message on his voicemail threatening him if the story was published.
Mr Wulff was succeeded by the Lutheran pastor and former East German anti-communist campaigner, Joachim Gauck.
The last German head of state to face charges in court was Adolf Hitler's successor Admiral Karl Doenitz, who was convicted at the Nuremburg trials of war crimes.