Northern Bank cash laundering: Ted Cunningham gets suspended sentence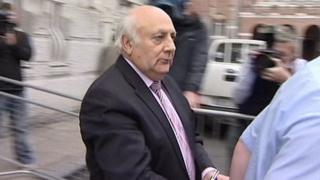 A financial adviser who admitted laundering cash from the £26.5m Northern Bank robbery in Belfast has been given a five-year suspended sentence.
Ted Cunningham, 65, of Farran, County Cork, had protested his innocence of the charges for almost a decade.
On the fourth day of his retrial at a Dublin court he changed his plea.
He was given a suspended sentence as he already served three years after being convicted at his original trial.
This conviction was quashed in 2012 and the judge ordered a retrial.
Earlier this month, Cunningham pleaded guilty to laundering a total of £275,400 and receiving cheques totalling 200,000 euros (£165,000).