Turkey frees cabinet ministers' sons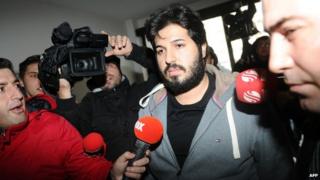 The Turkish authorities have freed the sons of two former cabinet ministers pending trial, the latest twist in a major corruption investigation.
Baris Guler and Kaan Caglayan, arrested in December, were among dozens of people held in an investigation into bribery relating to public tenders.
The inquiry enraged Prime Minister Recep Tayyip Erdogan, who saw it as a "plot" against him.
He responded with a purge of top police and judicial officials.
An Azeri businessman of Iranian origin, Reza Zarrab, was also released on Friday.
Cash in shoeboxes
The son of a third cabinet minister was also arrested in December, but was soon released.
The three ministers - Environment Minister Erdogan Bayraktar, Economy Minister Zafer Caglayan and Interior Minister Muammer Guler - resigned in December as the police investigation intensified.
All three denied any wrongdoing.
Police are investigating allegations of illicit money transfers to Iran and bribery for construction projects.
Earlier this month Suleyman Aslan, the former chief executive of Halkbank, was also released.
He is suspected of money-laundering in connection with the alleged bribery. When they searched his home police found $4.5m (£2.7m; 3.2m euros) in cash hidden in shoeboxes.
Mr Erdogan and his supporters in the ruling Islamist-rooted AK Party see the investigation as a plot masterminded by Fethullah Gulen, an Islamist cleric based in the US.
Mr Gulen denies any such plot. His Hizmet movement is believed to have influential followers in Turkey's judiciary and other state institutions.