Hungary court orders school closure over Roma segregation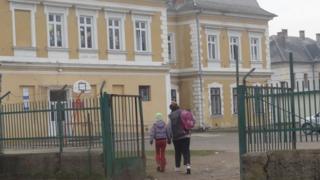 The Greek Catholic Church in Hungary has lost a landmark court case to keep open a primary school in a predominantly Roma neighbourhood.
Human rights activists successfully argued that the school segregated Roma children from the non-Roma majority.
The school in the eastern city of Nyiregyhaza was closed down under desegregation plans in 2007 - but reopened in 2011.
The ruling could affect other Church- and state-run schools in Hungary.
Equal opportunity
The primary school is located in a predominantly Roma neighbourhood - the Huszar district of Nyiregyhaza, and the large majority of its pupils are Roma.
It was closed down in 2007 and pupils were taken by bus to other schools across the city, as part of a campaign modelled on anti-segregation projects in the United States.
But in 2011, the ruling right-wing Fidesz party reopened the school and put it under the control of the Greek Catholic Church.
The Chance for Children Foundation, a Hungarian organisation that campaigns for Roma education rights, then sued both the Church and the Hungarian state for introducing segregation.
The judge ruled on Friday that the current functioning of the school violates both Hungarian laws on equal opportunity, and Council of Europe recommendations.
The verdict could affect dozens of other schools in Hungary, especially in provincial towns where certain districts have a high percentage of Roma families.
The court's decision means that the primary school in Nyiregyhaza cannot reopen for the next school year, beginning in September - unless the Church successfully appeals the ruling.