John Gilligan: Shooting of Veronica Guerin suspect attempted murder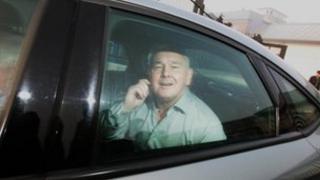 A convicted Dublin drug dealer, who was acquitted of the murder of journalist Veronica Guerin, is in a stable condition in hospital after being shot.
The attack on John Gilligan is being treated as attempted murder.
Gilligan, 61, was shot at his brother's house at Greenfort Crescent, in Dublin's Clondalkin area, at about 19:00 GMT on Saturday.
Two masked gunmen entered the house and shot him six times in the chest, stomach and leg.
It is understood a bullet also grazed his head.
The gunmen are believed to have fled the scene in a silver coloured jeep.
Gilligan was released from prison last October after serving 17 years for drugs offences.
He had been warned by police that his life was in danger.
A gunman went in to a Dublin pub looking for him in December, but he was not there.
Gilligan was originally given a 28-year sentence in March 2001 for drug offences. The sentence was reduced by eight years on appeal in 2003.
Ms Guerin, an investigative reporter for the Sunday Independent, was shot six times at point blank range in 1996.
She was targeted in her car at traffic lights by a gunman on a motorbike.
Gilligan was eventually acquitted of her murder after a lengthy trial at Dublin's Special Criminal Court in 2001.