Croatia accuses Serbia of 1990s genocide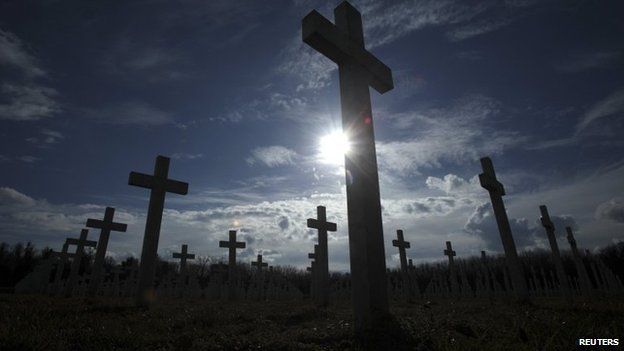 Croatia has told the top UN court that Serbian leaders are "in denial" over a policy of genocide it says was carried out on its territory in the 1990s.
Zagreb wants the International Court of Justice (ICJ) in The Hague to rule that Serbia committed genocide in the city of Vukovar and elsewhere in 1991.
Vukovar was devastated in the 1991-95 war when it was occupied by Serbs.
Serbia has filed a counter claim over the expulsion of 230,000 Serbs from Croatia in 1995.
An estimated 20,000 people died during Croatia's four-year war of independence, during the breakup of Yugoslavia. Several hundred Vukovar citizens were murdered by the Yugoslav army and Serb paramilitaries in 1991.
Some 2,000 people were murdered four years later, during and after the Croatian counter-offensive, entitled Operation Storm.
Serbia's countersuit will be heard by the ICJ next week.
Relations between the two neighbours have improved in recent years, but in 2012 Serbia was furious when the commander of Operation Storm, Ante Gotovina, was cleared on appeal by the International Criminal Tribunal for the former Yugoslavia (ICTY).
"Many political leaders in Serbia have maintained an attitude of denial," the head of Croatia's legal team Vesna Crnic-Grotic told the court on Monday. She cited remarks made by President Tomislav Nikolic in 2012 in which he disputed that genocide had been committed in the Srebrenica massacre of 1995.
The Croatian legal team told the court that the first phase of genocide emerged out of hate speech and demonisation directed at Croats.
By the time Croatian forces were attacked, the court heard that the Yugoslav People's Army (JNA) had become a Serbian national army in reality and that Serbian paramilitaries were under its control.
The head of Serbia's legal team said on Sunday that horrific crimes did take place but did not have "the characteristics of genocide".
The Croatian team will spend this week presenting its arguments before the Serbian counter-claim next week.
Then both sides will be able to cross-examine witnesses.
A binding ruling is expected either late this year or in early 2015.
The ICJ's judges will decide whether either country or both are guilty of genocide, incitement to commit genocide or complicity in genocide in Croatia between 1991 and 1995.