Ukraine crisis: Does Russia have a case?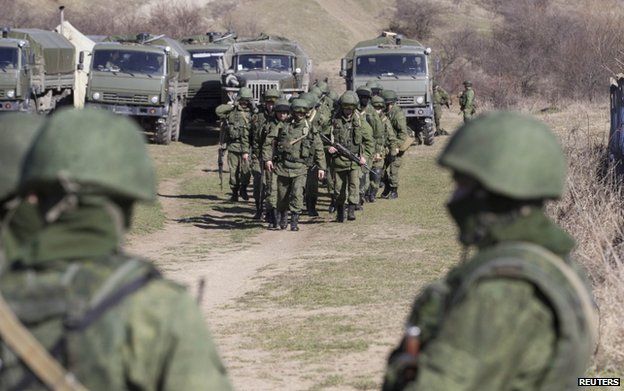 Russia says it is acting in Ukraine to protect the human rights of its citizens. But what justification does it have for taking de facto control of Crimea?
What is Russia's claim to Crimea?
Its historical links with the peninsula go back to Catherine the Great in the 18th Century, when Russia conquered southern Ukraine and Crimea, taking them from the Ottoman Empire. In 1954, Crimea was handed to Ukraine as a gift by Soviet leader Nikita Khrushchev, who was himself half-Ukrainian. Only 10 years earlier, Joseph Stalin had deported Crimea's entire Tatar population, some 300,000 people, allegedly for co-operating with Hitler's Germany.
When Ukraine became independent in 1991, Russian President Boris Yeltsin agreed that Crimea could remain in Ukraine, with Russia's Black Sea fleet remaining at Sevastopol under lease. That lease was in recent years extended to 2042.
Is there a legal basis for Russia's actions?
Under the 1994 Budapest Memorandum, the US, Russia, Ukraine and the UK agreed not to threaten or use force against the territorial integrity or political independence of Ukraine. They also pledged never to use economic coercion to subordinate Ukraine to their own interest.
Russia says its decision to send troops into Ukraine is necessary to protect Russian citizens.
There is an ethnic Russian majority in Ukraine's autonomous republic of Crimea. Russia's Black Sea fleet is based at Sevastopol, where much of the population have Russian passports. But the US insists there is no legal basis for the Russian move, accusing Moscow of acting unilaterally in violation of its commitment to Ukraine's sovereignty. The G7 group of leading economies agrees.
Under the terms of its agreement with Ukraine, Russia is entitled to have 25,000 troops on the peninsula and currently has an estimated 16,000 deployed there. But these troops have to remain on base. Pro-Russian troops have been deployed across Crimea. Moscow insists they are local self-defence forces, but there are widespread reports that they are from Russia.
So what is Russia's response?
Initially, Russia denied breaching the Budapest Memo. But Moscow now says the situation is continuing to worsen in Ukraine after the seizure of power by "radical extremists", threatening the lives and safety of residents in Crimea and other south-eastern regions. It also points to the new government's "trampling" on the 21 February agreement signed by ousted President Viktor Yanukovych.
What happened to the 21 February agreement?
When the president fled Kiev, the opposition moved in to fill the power vacuum. But earlier that week, in a bid to calm the crisis, both sides had agreed a deal to restore the 2004 constitution and reduce the president's powers. That deal was signed by Mr Yanukovych and opposition leaders as well as by three EU foreign ministers - but fast-moving events soon rendered it out of date. It was not signed by the Russian official present.
What about the role of 'radical extremists'?
Moscow has regularly complained that the protests in Kiev's Independence Square were hijacked by the far right, who have since gone on to take power in a new government that includes "undisguised Nazis". Two groups, Right Sector and Svoboda (Freedom), are frequently mentioned and there are regular references to wartime nationalist Stepan Bandera, seen as a hero to some but accused by others of being a Nazi collaborator linked to massacres of Jews and Poles.
The far right was a minority element in the protests that attracted a wide cross-section of support from Kiev and other cities. They were, however, often involved in the most violent confrontations and nationalist symbols were frequently visible in the square.
The nationalist Svoboda (Freedom) party has four posts in the government. Oleksandr Sych is deputy prime minister and Oleh Makhnitsky becomes acting chief prosecutor. It also runs the agriculture and ecology portfolios but its leader, who has been accused of anti-Semitism, is not in the government.
Protest leader Andriy Parubiy has become chairman of the National Security Council (NSC). A co-founder of Svoboda and labelled an extremist by the ousted president, one of Mr Parubiy's deputies at the NSC is Dmytro Yarosh, the head of far-right paramilitary group Right Sector.
Is the government anti-Russian?
Part of the problem is that the government sworn in last week had little connection to Ukraine's more Russophile east. One of its first actions was to repeal a 2012 law recognising Russian as an official regional language. The decision was widely criticised across Ukraine.
Were Russian citizens in danger in Crimea?
Last week, there were disturbances in the Crimean capital, Simferopol, when pro-Moscow protesters and supporters of Ukraine's new leaders confronted each other outside the parliament building. After reports had emerged of Russian troops taking up positions across Crimea, Moscow accused Kiev of sending armed men to destabilise the peninsula. It was already in Russian hands.
Does Crimea create a precedent for other Ukrainian cities?
The circumstances in the eastern Ukrainian cities of Donetsk and Kharkiv are comparable to the situation in Crimea. There have been pro-Russian protests in both predominantly Russian-speaking cities. In Donetsk, some 100 demonstrators stormed the regional administration building on Monday and a businessman, Pavel Gubarev, declared himself people's governor.
Correspondents described how the protesters in Donetsk chanted, "Putin, come". Russian troops have taken part in exercises over the border and President Vladimir Putin has spoken of sending the military onto "the territory of Ukraine" without specifying where. However, he has since said Russia will use force in Ukraine only as as last resort.
So what does Russia want?
In Crimea, Moscow appears keen to strengthen its grip, with a package of financial aid to the peninsula in the form of pensions and salaries. It has also promised that a $3bn (£1.8bn) bridge will be built, linking the Russian mainland to Crimea over the Kerch Strait, a distance of some 4.5km (2.8 miles).
Across Ukraine, Moscow is calling for the 21 February agreement to be implemented. Vladimir Putin accepts there is no return for the ousted president but Moscow is stressing the need for a government of national unity. Russia sees the current government as anti-constitutional and not representative of the native Russian-speaking population. It also wants "extremist gangs" to disband.