Letterkenny hospital services set to reopen after flood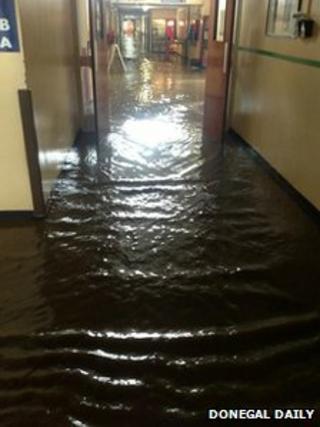 Almost all services at Letterkenny General Hospital in County Donegal are set to reopen this month, following serious flood damage last summer.
The flood in July 2013 affected 70% of services and destroyed 40% of the hospital building after a tributary of the River Swilly overflowed.
The emergency department, pharmacy and kitchens were extensively damaged.
The chief executive of the West/North West hospitals group said the emergency department would reopen next week.
"The hospital and staff have coped remarkably well given the extent of work that needed to be carried out," Bill Maher added.
"We're going to rebuild the radiology department and we're about to start work rebuilding the kitchens.
"We'll soon have the pharmacy up and running."
The estimated cost of the rebuilding work is 10m euros (£8.2m).
However, the total for re-equipping the facility and rebuilding sections of the hospital is estimated at 30m euros (£24.7m)