Crimea: Putin's mission accomplished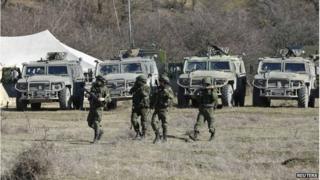 US Secretary of State John Kerry expressed confidence on Sunday that "Russia is going to lose" in its confrontation with the West over Ukraine. But by the time Mr Kerry arrives in Kiev for urgent consultations with the country's interim government, President Vladimir Putin will have already achieved his primary regional objective - regaining leverage over what happens next in Ukraine's unscripted revolution.
The problem with assessing which side will ultimately prevail - Moscow or Brussels and Washington - is that they are playing different games.
The West is playing against Russia, but Russia is competing for Ukraine. So far, Mr Putin is winning at a cost he is willing to bear.
Ukraine and the West have a couple of trump cards to play, but may not be willing to accept the costs and risk that go with them.
Secretary Kerry said on the Sunday talk shows that Ukraine need not become an "East-West redux" based on zero-sum calculations, but in fact that is exactly what it is. Ukraine is the last major unresolved issue from the end of the Cold War. Does it align itself with the East or the West? It is the fault line at the heart of the revolution and Ukrainian history, sociology and politics.
The crisis started in November over a binary choice for Ukraine: choose the European Union or the Eurasian Customs Union.
Former Ukrainian President Viktor Yanukovych looked East, enticed by a $15bn (£9bn) Mr Putin pledge to prop up the Ukrainian economy. A significant element of his population looked West and protested his decision and forced him to flee - to Russia.
President Barack Obama said on Friday there would be costs for Russia's incursion into Crimea and Secretary Kerry detailed the menu of options: political isolation, targeted sanctions and reduced investment and trade.
Trading the cost
But Mr Putin has some costs he can impose on the West as well.
For example, Interim Ukrainian Prime Minister Arseniy Yatsenyuk said on Sunday Ukraine is on the "brink of disaster".
Mr Yanukovych may have absconded with as much as $70bn. The country's coffers are empty.
Mr Putin put his cheque book away after dispensing only $3bn.
Can the West and/or international financial institutions pick up the slack and how quickly? No guarantee it will be enough given the West's lingering economic uncertainty.
The West could impose sanctions on individuals and entities viewed as subverting Ukraine's independence.
But there is a limit to what can be done without damaging European economic interests. Even with expanded global production, Russia still has considerable leverage over Europe in the energy sector. Germany still gets a third of its gas from Russia. There will be reluctance to mess with global markets.
The major economic powers have suspended planning for the upcoming G8 summit scheduled for June in Sochi. In all likelihood, the meeting will be cancelled.
The G7 could suspend Russia's membership in the club, but the reality is Mr Putin cares more about Ukraine than he does his relations with the West.
His strategic objective is to keep Ukraine in Russia's sphere of influence, either as a client state or neutral buffer.
The West's trump cards are to resume negotiations that could eventually bring Ukraine into the EU and perhaps even into Nato.
But are the United States and Europe going to risk a fundamental break with Russia now over an uncertain outcome in Ukraine down the road?
Not likely.
Putin in charge
These issues will undoubtedly be the backdrop for Ukraine's upcoming elections in late May.
Ukraine has no practical ability to pursue such strategic choices at present, but if it appears the debate advances such options, it could mean the end of Ukraine as it currently exists.
Crimea plans a referendum to consider continued autonomy, independence or union with the Russian Federation.
It is not clear that Mr Putin wants Crimea re-gifted, but he has already signalled to a core constituency - those with Russian citizenship or with strong ethnic, language and cultural ties to the Motherland - that he has their back.
A Crimean secession would be a bitter pill for a new Ukrainian government to accept.
Kiev got a strong hint of such divided loyalties just this weekend. Its newly appointed Navy chief defected after barely 24 hours on the job.
But after being wrong-footed on Ukraine's economic future, Mr Yanukovych's survivability and Maidan's durability, Vladimir Putin has regained his leverage and time and space to undermine this revolution just like he did in 2005, which is what the past few days are really all about.
P.J. Crowley is a former Assistant Secretary of State and now a professor of practice and fellow at The George Washington University's Institute of Public Diplomacy & Global Communication.