Tensions ease in Ukraine's second city of Kharkiv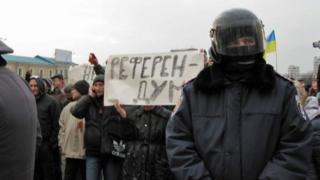 Ukraine's second city of Kharkiv was the focus of more pro-Russian demonstrations on Wednesday.
Protestors marched on the regional administration building on Slobody Square, shouting "Putin, Putin!" and "Russia! Russia!"
Others called for a referendum on whether a large part of Ukraine should become more autonomous or even form part of Russia.
But at approximately 1,000-strong, the crowd was not nearly as large as had been anticipated.
It was certainly not on the scale of the violent demonstrations on the same spot last Saturday, when about 1,000 people were injured. In that demonstration, one pro-Russian supporter managed to raise the Russian flag on top of the governor's building.
Apart from a few scuffles, this latest protest passed off relatively peacefully.
Local observers said the turnout and relative peacefulness of the gathering could indicate a lessening of tensions in this part of eastern Ukraine.
'Illegitimate' government
Kharkiv lies just 40km (25 miles) from the Russian border.
More than 90% of its population speak Russian and around 40% are ethnic Russians.
Many people in the city feared a Russian occupation of Ukraine earlier in the week, but that feeling seems to have abated, particularly following the decision announced on Tuesday to halt military exercises across the border in western Russia.
Constantine, a surgeon from Russia, attacked the new government in Kiev and described it as "illegitimate", adding: "Friendship with Russia is the main thing needed by Ukraine now."
"I don't think Putin is damaging Russia's relationship with Ukraine, but I do think the US helped to destroy the previous government in Kiev and has helped this latest government into power now."
But Constantine did not think eastern Ukraine should become part of Russia.
"I am Russian but I feel Ukrainian also because I live here and I work here," he said.
I also spoke to Orlena, a Ukrainian musician whose husband is Russian.
She said: "Many of us are demanding a referendum on the federal state of Ukraine."
"We have a lot of Russian speakers here. If there was a threat to separate us from Russia we would demand to be a part of Russia."
But Yuri, a retired Ukrainian engineer, alleged that many of the protesters were from across the border.
"Russia is an aggressive country; it is an invader," he said. "See what happened in Georgia and Moldova. Unless it withdraws troops soon from Crimea, there will be trouble."