Garth Brooks: LRC mediator to host Croke Park residents talks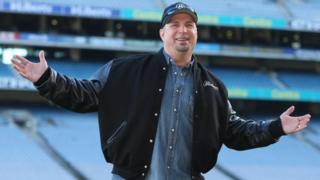 A mediator has been asked to intervene in a row between the Gaelic Athletic Association and residents objecting to Garth Brooks shows at a Dublin stadium.
About 400,000 people are due to attend the US star's five sold-out shows at the GAA's Croke Park stadium in July.
The residents have complained their area is "locked down" during concerts and have threatened legal action.
The GAA has asked the chief executive of the Labour Relations Commission to chair talks between the two sides.
However, the residents said the GAA did not consult them before asking LRC boss Kieran Mulvey to help resolve the dispute.
The GAA had said Mr Mulvey would attend a meeting with both sides later this month.
In a letter to local representatives, GAA Director General Páraic Duffy said his organisation would share plans for the concerts with residents ahead of an application to the Dublin City Council for permission to stage the five shows.
He said the GAA wanted to reach a long-term agreement about the staging of events at the stadium.
Last month, Patrick Gates from the Croke Park and Clonliffe Residents Association said they had to endure "noise pollution, traffic congestion, litter, drunken concert-goers and anti-social behaviour" when major concerts were staged at Croke Park.
Responding to the GAA's latest offer of mediation, Mr Gates told the Irish state broadcaster, RTÉ that residents were not hopeful of an agreement.
"I know Kieran Mulvey and I respect the work he does but we haven't been consulted. So my worry is that it is again a cosmetic exercise on the behalf of the GAA to win some sort of public relations campaign," Mr Gates said.
While the stadium mostly hosts Gaelic football and hurling matches, three concerts by the pop band One Direction and an American football game are also planned for this year.
The announcement of the Garth Brooks concerts prompted a ticket frenzy, with the first three shows selling out 90 minutes after going on sale.