Ash Wednesday forehead burns force priest to halt Mass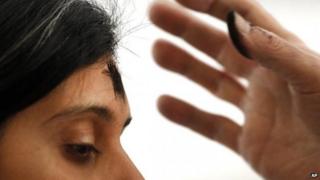 An Irish priest was forced to abandon an Ash Wednesday service after people complained of suffering forehead burns.
Fr Eugene Baker said he first became aware of the problem when a parishioner told him during Holy Communion they were "experiencing a burning sensation".
About 30 parishioners had received ashes to mark the beginning of Lent at St Joseph's Catholic Church in Newtownshandrum, County Cork.
"I stopped the service and alerted people that there was a problem with the ash - they went to wash it off in the sacristy," he said.
"Some people did get quite a nasty burn from the ash, whatever's in it."
'Nothing added'
Fr Baker said he had taken a sample of the ash to a public health laboratory at a local hospital to find out what had gone wrong.
"Something was either in the ash or maybe it was the way it was burned, but we can only speculate," he said.
"It did burn - you could see afterwards when it was washed off that it had burned into the skin."
He said nothing had been added to the ash, which comes from blessed palms that are burned after Palm Sunday during the previous Easter.
"I apologised for any hurt caused during the Mass, and rang around later to see how they all were," he said.
"I didn't hear of anyone taken to the hospital and as far as I know, they just treated themselves with some cream."
The marking of a cross of ashes on the forehead is a Christian tradition that symbolises humility and mortality.