Ukraine crisis: Crimea's Russia vote tests Western nerves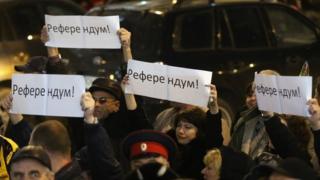 The crisis between Russia and Ukraine has suddenly entered a new and dangerous phase.
The decision by the parliament in Simferopol that Crimea should join Russia - a proposition that will be put to a referendum in some 10 days' time - has escalated diplomatic tensions just as direct military confrontation on the ground in Crimea seemed, if not to be relaxing, to have reached an uneasy standoff.
The move was described by the UK Prime Minister David Cameron - in what yet may prove an understatement - as "a serious step in the wrong direction".
Western diplomats are now struggling to elucidate what light this move by the Crimean parliament throws on President Vladimir Putin's game plan.
Could such a decision have been taken at all without having a prior green light from Moscow?
What result might such a referendum throw up, even though the government in Kiev and its friends in the European Union and Nato will regard the whole process as illegal?
And if the outcome of such a vote was to join Russia, would Mr Putin claim that his hand had been forced and effectively re-draw the map and annex Crimea?
With the referendum scheduled for 16 March this is going to be a tense and potentially eventful 10 days.
The greatest difficulty for Western governments is to discern exactly what Mr Putin's bottom line is.
Does he wish to hold Crimea, with its Russian bases, even closer to Moscow?
Or is this all a matter of leverage over Kiev?
Many argue that Russia's overarching strategic goal is to retain a key role in influencing Ukraine's future trajectory.
Mr Putin clearly does not want to see a Ukraine that moves ever closer to Nato.
Even deeper ties between Kiev and the EU raise concerns in Moscow, not least because the EU has taken on a security dimension, which the Russians see as simply prelude to potential alliance membership.
Posturing
Having achieved little on Wednesday after a series of high-level meetings in Paris, a concerted Western response to the Russian gambit is slowly moving into gear.
There have been a series of small military steps.
Nato (in this case US) fighter jets reinforcing Poland and the Baltic Republics; a US guided-missile destroyer, the USS Truxtun, is heading from Greece into the Black Sea for exercises with the Romanian and Bulgarian navies.
These steps though are not so much to threaten Russia but to show presence and to reassure some of the Nato European allies who are worried by developments either on or not far from their borders.
On the diplomatic front the principal focus is on defusing the crisis and getting the Russians and Ukrainians around the same table.
Ukrainian officials are eager for example to have the Nato Council hold a session in Kiev to demonstrate alliance solidarity with its Ukrainian partner.
Some though might see a more explicit role as simply posturing and unlikely to go down well in Russia.
It is easy to write off the other practical measures that the US and the EU have proposed as being too little to really focus minds in Moscow.
Rhetoric though is cheap.
Action can potentially be costly and, as Mr Cameron explained, getting so many different governments to agree on a set of practical measures is never easy.
The real test is still to come.
Putin's Achilles heel?
The EU is threatening a battery of further measures should Russia not sit down with the Ukrainians for serious talks and soon.
Tougher action could follow any move by Russian forces into eastern Ukraine.
Though Mr Putin knows full well that instability in Europe and returning relations between Russia and the West to the freezer could have a significant impact upon economic recovery in the West.
Mr Putin, though, may have an economic Achilles heel too.
Stock prices in Russia took a hammering after its initial move in Crimea and shares went down again on Thursday in the wake of the Crimean parliament's decision.
Mr Putin nonetheless remains the central figure in this drama, driven by concerns about Russia's future strategic position in Europe and mindful - some might say too mindful - of Russia's past humbling after the collapse of the Soviet dream.
For all the small-scale Nato military movements and the various threats of sanctions and travel bans against individuals, it is on the financial and economic battle-front that this struggle will be fought out.
And that is what makes it so very difficult to get a strong concerted response from the West.